Matt Redman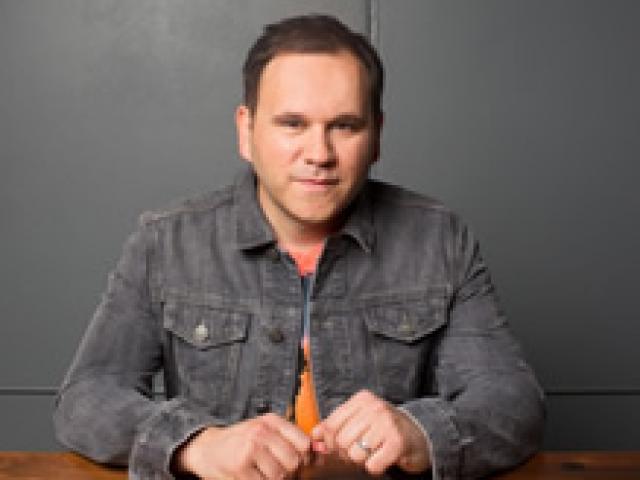 CBN.com - "I want to describe as best I can the wonders of Jesus, and then give people space to respond in devotion," says Matt Redman. When it came time to begin writing for his new record, Matt found himself drawn back to the basics, crafting worship-filled songs formed out of intimate prayers.
"That's what sets worship songs apart – it's not just telling a story, or putting a point across – the song becomes a prayer," says the UK native. "I think if something comes across as a heartfelt prayer it will automatically sound authentic."
It's evident in Matt's writing that he has an innate gift of connecting music with prayer; weaving together heartfelt devotional hymns and pairing them with impactful melodies. It has been over two years since the day Matt, in a small chapel near his home in Brighton, England, wrote what would be known as the timelessly infectious worship anthem, "10,000 Reasons (Bless the Lord)." Unbeknownst at the time to Matt or fellow songwriter and longtime collaborator Jonas Myrin, this song – birthed from a simple melody – would take on a life of its own, traveling to the masses all across the globe. So much can happen in a year and the momentum behind "10,000 Reasons (Bless the Lord)" has been proof of that. Since it's release, the song has hit No. 1 – leading over 19 weeks on the charts and over 30 non-consecutive weeks in the Top 5, been RIAA certified gold and has garnered two GRAMMY awards, a Billboard Music Awards and was named ASCAP's Christian Music Song of the Year.
"The Grammy moment was a lot of fun – it was one of the hugest encouragements I've ever had," Matt recalls. "But let's face it, nothing has changed really. I need to see that moment like I see every other moment of ministry. I need to wrap around it the thought that so often what God entrusts into your hands isn't actually for you – it's for you to minister to others. Something that happened that put winning the Grammys into perspective was the day after, I received an email from someone whose loved one passed away after a long battle with cancer. As they went to be with Jesus, they'd been playing the 10,000 Reasons song in the hospital room. It was a very touching note to receive, but the timing was also immense for me – it reminded me in that moment why I write songs. Any kind of award is wonderful – it's a lovely encouragement along the way, but it's not why I write worship songs. I write them, in the words of the composer Bach, for 'the glory of God and the refreshment of the soul.'"
Writing for God's glory is the exact pursuit Matt aims for in his newest project, Your Grace Finds Me. The project follows suit of 10,000 Reasons, being recorded during the annual conference LIFT: A Worship Leader Collective, hosted by Passion City Church and sixstepsrecords. Your Grace Finds Me, which was recorded earlier this year, lends the voices and emanates the passion of over 2,000 worship leaders gathered together at the sold-out event in Atlanta. "You've got a room full of 2000 or so worship leaders, singers and musicians – all pouring out their hearts to God," says Matt. "That's powerful. I love writing and recording songs, but ultimately I love to lead those songs – it was a joy to see them coming to life."
So, how does a veteran songwriter like Matt follow the massive impact of "10,000 Reasons (Bless the Lord)"? The same way he always has – with a humble approach and open heart. Matt explains, "Over the years I've witnessed just how deep songs can travel into people's hearts and bring some hope, healing or a new perspective on their circumstances. We've heard from people in cancer wards, or on the frontlines of a battlefield, or having lost a loved one. And the story is so often the same– that even though their circumstances are so difficult, one of the songs we wrote has helped them find their way to a place of trust and praise. So as long as there's a sense of God's calling for me in this, I'll keep on writing. I really enjoy the art of songwriting itself – I thrive on that process of composing a song from nothing and seeing it take shape. But more than anything else, I love seeing what God will do through a song – what it can achieve if it's goes deep into a person's heart."
To date, Matt has sold more than 600,000 albums; millions sing his songs in churches every week. From favorites like, "Blessed Be Your Name," "Heart of Worship" and "You Never Let Go" to the more recent "Our God," "You Alone Can Rescue" and "How Great Is Your Faithfulness," Matt has established himself and his talent. Beyond songwriting, he tours with well-known worship movement Passion when they hit the road, has written four worship-themed books and is husband to wife, Beth and father of five.
"My aim with every album is to birth some songs that might help people both to talk to God and to hear from Him," Matt says, "Worship is a divine conversation and I always want the songs to reflect that."
And that's how Your Grace Finds Me hits its mark. About 30 songs were written for the record, spanning collaborations with some 14 co-writers from all over the world: from the Americas, the U.K., Sweden, Australia and Canada. "The 12 songs you hear on the album are the ones that rose to the top," Matt says.
Included in the list of co-writes is Jonas Myrin who appears in several songs including the lead single and title cut. "Your Grace Finds Me" kicks off with a sense of freshness and beginnings, invoking the light of sunrise as it unfurls with majesty. Lyrically, it celebrates the permanence and passion of a God who refuses to leave us and always pursues us: "From the creation to the cross/ There from the cross into eternity/ Your grace finds me." Matt recalls the inspiration behind these poignant lyrics and how whether we realize it or not, no one has ever lived a day without the grace of God active in their lives.
"The beautiful thing about the grace of God is it always finds us wherever we're at. So in the title song I sing about a grace that finds us not only on the mountaintop, but also in the mundane. His grace finds us on a wedding day, or when we're weeping by the graveside," says Matt. "I think through my own story and see so much evidence of the grace of God at work. My Dad took his life when I was just seven years old and in all the questions and the heartache, I can see that the grace of God was at work. I look back and see kindness – how He provided for our family, how He drew near to the broken-hearted, and I can see the fruit of it in my life now – for one thing I reckon those experiences led me to being a worship leader and songwriter."
When initially working on the new record Matt didn't have a specific theme in mind, approaching the writing process one song at a time. But just like his records in the past, themes began to emerge – from grace and mercy to the uniqueness of Christ to battle and blessing. This thread of battles and blessings and its continual presence in our every day lives plays part to the worship-heavy lyrics found in tracks like "Mercy." The power balled is what Matt refers as a song that attempts to get around the cross and that we never cease to be awed by the sheer scale of grace and love found there. The bridge of "Mercy" echoes this beautiful prayer taking flight with the words: "May I never lose the wonder, o the wonder of Your mercy. May I sing your hallelujah, hallelujah amen."
"I've lost count of how many songs I've written about the cross of Christ over the years – but the reason is simple. It is the difference between life and death, between inescapable chains and eternal freedom," Matt explains. "When it comes to the cross of Jesus, it's unlike any other moment in the unfolding of the years. Here is the very Son of God laying down His life in love, obedience and sacrifice. The cross of Christ shall never lose its power and never cease to be the most relevant and life-changing act mankind has ever seen. It can never be outdone, added to, or improved on."
"Just as the desert needs the blessing of the rain, just like the winter waiting for the sun again – I need You now." As Tozer once wrote, "In himself nothing, in God, everything" and Matt pulls this same idea of strength in dependency into "I Need You Now." The simplicity found in the imagery of a desert sets up the open confession found in the unrestricting lyrics.
"Dependence is not only a smart way to exist spiritually; it's an honoring one towards God. For as we pray 'I need You,' not only do we remember our weakness, but we affirm once again His great strength," Matt says. "'I Need You Now' is a prayer of dependence that I hope makes sense for someone just as much on the way to a pressured day of work in the office as it does in a worship service. Independence, so often admired in this world, does not work well in the spiritual life. We were not created to have no need of God – quite the opposite. We will need Him every hour, every day and every year of our existence. And the sooner we face up to that daunting yet liberating truth, the better."
In both its simplicity and splendor each track delivers songs anchored in heartfelt prayers. Each track ties together the poignant theme effortlessly; from proclamations of grace in songs like "Sing and Shout" and "Jesus, Only Jesus" to songs like "Good Forever" for seasons of battle and humble surrendering. And so, Your Grace Finds Me seems fitting at this stage of Matt's career. For all the laurels he could rest on, all the honors he could count, all the records he's sold, he still regards songwriting and leading worship as mysterious, wonderful temples where God meets him in the most unexpected ways.
"When I get up to lead worship on a stage, I always say it's not about me. And I don't quite get why songs, and especially worship songs, have such powerful currency in our lives, but they do," Matt says. "So as long as there's a sense of God's calling for me in this, I'll keep on writing."
Can We Pray For You?