Put a Smile on Your Family Routine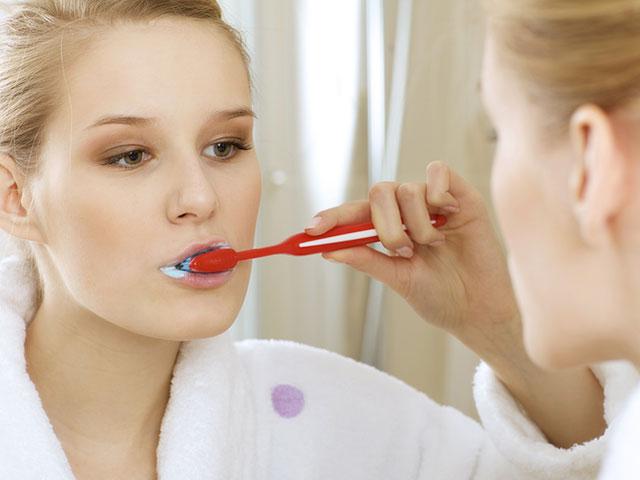 CBN.com - The folks who run the American Dental Association must be marketing geniuses. How have they made 'tooth brushing' such a universally accepted practice? How has the daily habit of brushing one's teeth become so much more a part of our children's lives than improving their reading, fitness, or faith in God? If we exercised, read, or prayed, with the same frequency and duration as we brushed our teeth – we'd live far richer lives.
One reason that tooth brushing has become so accepted is because it starts at such a young age. My 2-year-old son already has his own electric toothbrush and has no problem brushing his own teeth. Another reason is that tooth-brushing is a relatively quick, simple and routine event. Anything that a child does two times a day, every day, starting at the age of 2 or 3, will inevitably become an integral part of his or her life.
Research has shown that children respond well to predictability in their daily schedules. It comforts them and builds a necessary level of security and trust in their lives. Why not take advantage of this fact and build a more robust nightly routine that does more than just keep our children's gums clean?
Take Advantage of the Nightly Routine
'Bedtime' is a terrific time to build lifelong habits in our children. It is a time that children are very receptive to learning and growing. Unfortunately, our busy lives sometimes equate bedtime with a freedom from the rigors of child-rearing. How often do we catch ourselves rushing the kids off to sleep so we can finally catch our breath?
The Routine
My wife and I have three boys (identical twin 5-yr olds and a 2-yr old). We have tried to create a simple, predictable, and spirited nightly routine for our children that targets three important categories – academics, health, and faith. Obviously, you don't want to overwhelm the children. Too much of anything can backfire. After much experimentation, we've settled on a 30-minute nightly routine that looks like this:
The Black Family Nightly Routine (Total time: 30 minutes)
This program has worked well for us. The boys know exactly what to expect every night and appreciate the predictability. Once the machine is in motion, the rest of the night takes care of itself. By the time we are finished with our prayers, they know exactly what comes next – bedtime.
We feel that this program gives our boys a strong foundation in the three values in life that we cherish most. This is no magic formula, however. You may have a different set of values that you would prefer to instill in your children. Our nightly program will surely adjust as our children grow older and their perspectives on the world change. Time of day is also not set in stone either. Some parents may prefer to create a 'morning routine' versus a nightly routine. These are details that can be adjusted and tweaked over time. The point is to carve out time (as little as 5 minutes) for these important elements.
Simple, Convenient, Fun
Part of what makes a program like this successful is its ease of use. It cannot be a chore for the parents or the children. Especially at a young age, the routine must be simple, convenient, and fun. My passion is fitness, and I was so eager to create a fitness program for children that upheld each of these principles, that I created my own product. It's called FitDeck Jr.

FitDeck Jr. Exercise Flash Cards for Kids
FitDeck Jr. is a deck of Exercise Flash Cards that encourages children to exercise. It's a simple concept: shuffle the deck of FitDeck Jr. Flash Cards, select a card, and perform the exercise pictured on the card. None of the exercises requires any equipment – so it's perfect for the kids' bedroom. Each card takes about one minute to complete. The deck also comes with a booklet with over 70 FitDeck Games & Activities for Kids.
FitDeck Jr. works perfectly in our nightly routine. The boys get to choose 5 out of 50 cards every night. Each card takes about one minute to perform, so it takes about five minutes to complete. I join them in the exercises as well. Here are some sample exercises: Crab Crawl – crawling around on hands and heels; Giraffe Walk – walking on tippy toes; Flamingo Hops – jumping up and down on one foot; Snow Angels – moving arms and legs as if making an angel in the snow.
By now the boys have become experts at the exercises and consider it part of their daily routine – almost as much as brushing their teeth. They also love when they select the 'Bear Crawl' card because they all get to climb on my back as I "bear crawl" around their bedroom.
We love it when we hear that using FitDeck Jr. has gotten parents interested in exercise as well. Here's what one Dad had to say about FitDeck Jr.: "I just wanted to thank you for your product. My family and I started doing the exercises as a family. Me (40), my two daughters (6 and 10) and my wife (39) will do the exercises together in the evenings. My kids love working out with mom and dad. They actually remind me that it is time to workout!"
Reading is FUNdamental
Our reading routine is equally simple. Each boy picks a book that they would like to read. They can choose any kind of book that they like. We've found that if the boys select their own books, they seem to be much more interested and engaged in the stories. We read each book to them for about eight minutes each.
Prayer
Our prayer session is also very simple. We begin by reciting two or three simple prayers aloud (one to two minutes), then we each talk about something that we are thankful for (one to two minutes), and we end with one minute of quiet meditation. The time goes by fast, but the impact will last a lifetime. It's a truly special way to end the day.
More than Clean Teeth
Join us in our quest to make bedtime more than just a tooth-brushing drill. Don't miss a golden opportunity to build strong, foundational habits in your children in as few as 30 minutes a day. Make bedtime something to look forward to – both for your kids and for you.
---
From Faith & Fitness Magazine August/September 2007. Reprinted with permission. Copyright © 2007 Faith & Fitness Magazine and Lifestyle Media Group. Faith & Fitness Magazine is a lifestyle resource to build physical and spiritual strength. It helps readers make connections between the Christian faith and the fitness lifestyle. To contact the publisher of Faith & Fitness Magazine, Brad Bloom, for reprint permission, e-mail brad@faithandfitness.net.