What to Do When Life Doesn't Make Sense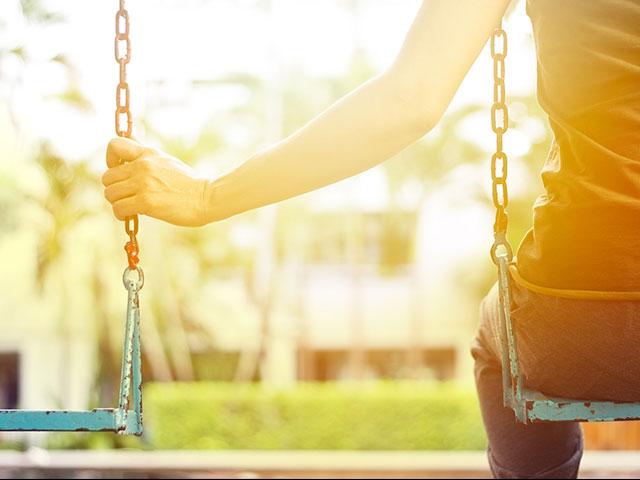 Author Karen Jensen knows all to well the pain and suffering of losing a spouse in the prime of their life.
On New Year's Day 1997, Karen's husband, who hadn't been sick, told her he was going to bed a little early.  He never woke up.  Dead at the age of 37.  Left with two young sons to raise and suffering through a world of grief, Karen found herself asking one simple but profound question … why God, why?
Told by some not to question God for her loss, Karen chose instead to do just the opposite. She asked God questions ... lots of them. It was the best thing she could have done as God showed her how to move past the pain.
In her new book, Why God Why?: What to Do When Life Doesn't Make Sense (Charisma House), Karen shares her personal journey of suffering, the questions she asked God, and how He ultimately delivered her into a life of purpose and joy.
I recently sat down with Karen to discuss why she didn't retreat into a world of misery, her advice for people who are afraid to question God, and why it is so important to meditate upon God's Word even when you are disgusted with your circumstances.
What was the motivating factor for you to write your new book, Why God Why??
I meet a lot of people who have questions; they question God. Something happens in their life and they don't understand it.  Lots of them get stuck there. In my life, my husband and I were pastoring a church in Boise, Idaho, and he just went to bed on New Year's Day, 1997, and didn't wake up. He was 37 years old and hadn't been sick. So I had questions. Why God, why?  I find that people all over the world have those questions and they get stuck there. So really, this book is about what to do. People say you shouldn't ask God questions. They say, "You shouldn't question God." Well, I think that's a bunch of hooey, because God is your Father. He loves you. He's the one with the answers. He already knows you're asking the questions anyway. So you might as well be honest with Him and just ask them all.  The whole book is about moving your questions to the backburner, trusting in Him, and figuring out how to go on with your life.
When many people would have retreated from a situation like yours and run the other way, you actually seemed to run toward the challenges.  When your husband passed away you instantly became the single parent of two teenage boys and you took over your church as the senior pastor. Why didn't you retreat?
I knew that God was my answer. I'm not the sharpest knife in the drawer, but I figured out this was not the time to run away from Him when I needed Him so much.  So, I just pressed in. And I tell people it was the worst time of my life and yet it was the best time, because I pressed into God, and I found out He is a very present help in times of trouble.
What did you learn during that period?
I learned that this grace that He has for us to live the Christian life, we weren't supposed to be doing it in our own strength in the first place.  At that point I didn't have any of my own strength.  I'm grieving a husband. I'm deciding where life is going.
We pressed into God more than ever, and by that I mean I read my Bible with my finger down the page like a five-year-old learning to read. I read it for hours. I'd read it all before, but now its desperation almost, I had to have the Word. In Psalm 119 it says, "If not for your Word, I would have perished in my affliction." That was me. I just knew I had to have more of Him. When you do that, every time you come near to Him, He comes near to you, and I could hear His voice better.  I realized I probably was supposed to be living this way my whole Christian life.
Why then, is it so hard for people in situations like yours, where there's no clear answer, to ask God the simple question, "Why me?"
Of course I can't answer for everybody and where they are in their walk with the Lord, but I know that at first when I took over my church, I wasn't ready to preach three times a week. I was still grieving, so we had friends come in to preach for me, and they'd pray for me, and I'd end up basking in God's glory for 40 minutes after everybody went home. I'm sitting there still basking in God's glory. And those times where I felt so close to Him, I'd say, Father, as long as we're down here, could you tell me what in the world happened? Why did this happen? And every time He would say, "Can you trust me?" And finally I stopped, I said alright.  I said yes, because it didn't seem like a good time to stop trusting Him. I needed Him so much. And so, really, that kind of motivated me. Finally, I said alright, I'll stop asking. Yes, I can trust you. I didn't necessarily get all the answers. Why, God Why? is not necessarily an answer book, it's a "how to move past the pain" book.  It's a "don't make a camp in the valley of questions or in the valley of hurt." Psalm 23:4 says, "Ye though I walk through the valley of the shadow of death." That means A) there is a valley, sad but true. If I could, I would wrap us all in bubble wrap and make sure nothing bad ever happens to us, but that's no kind of life, anyway. So, stuff happens, but the key to that is walking through the valley, keep going, because in the middle of the valley you feel like, I don't know who I am anymore, I don't know where I'm going, I don't know why this happened, I don't know if I can trust God. And so I came to a place where I said, "Yes, I'll trust you. I don't have all the answers, but I'll trust you," and that's where He comes flooding in with kind of a new direction, His other Plan A for your life.
You mentioned earlier that people have said you should never question God.  What advice do you have for people who do have questions for God but are afraid to ask?
I think you can ask God questions. I think He's good, He's your Father, He knows you're asking the questions anyway, you might as well be honest with Him, and I tell people, write them all down, date it, and say these are the days I asked God all my hard, ugly, "I don't get it" questions, and then push them to the backburner. Ask all your questions and then push it to the backburner like you're making a stew. You put all your ingredients in on the front burner, but then what do you do to let it simmer and finish, you push it to the back and you go on cooking on the front burners for the rest of the meal.  That is kind of like life. Ask them, they're in there now, they're in the pot, and now what do we do and how do we go on cooking on the front burners? That's really what the book is about.  It's about how to press into God, how to come to realize He's got a good plan for you, how to walk forward in it. Everything you thought to be true is still true about Him. You know how when something happens to people, they say, "I don't know anything anymore. I thought I knew some stuff."  The thing is, you do still know some things. You know that you're not alone. He's always with you. He's still on the throne. He still has a good plan for your life. There's still a blueprint for your life which is the Word of God. That's how we get a vision for our life.
For a person who is struggling through this situation where they are calling out to God and just wanting to know what's going on in their life, what are some key scriptures that you would recommend?
Well, I have three favorites … Romans 8:28, "And this we know, all things work together for good for those who love God and called according to His purpose." If you're saved, you're called, and if you love Him, you love Him, that qualifies all of us. And notice it says, "And this we know." You've got to know it, all things work together for good, but maybe it's not good right now, that means He's working. Faith says, Father, I know you're working this together for good. It doesn't look good now, but I know you're working. Another one is II Corinthians 2:14, "Thanks be to God who always causes us triumph."  We have a saying in my family, if anybody's going to come out on top in this situation, it's going to be us. We may not be on top right now, we might be under, but we're going to believe. And of course, Jeremiah 29:11, "I know the plans I have for you, plans for good, not for evil, that you can have hope and an expected outcome." In other words, an expected future. That version I just gave you is the "Karen grab a bunch of scripture" version. But the point is the same. He has a plan. Sometimes when our plan is blown out of the water, we think, "The plan, it's gone!" No, He has a plan. He's not surprised by where you find yourself. He knows where to bring you from here to come out to your bright future.
How important is it to meditate on God's Word during this season you're in?
It's the difference between success and failure. It's life and death. What does He say in Romans 12? He says, "Renew your mind so that you don't think like the world." And so really, that is what I'm talking about.  I am saying replace the thoughts, run your finger down through God's Word. It's all about thinking God thoughts instead of worldly thoughts, thinking hopeful thoughts instead of hopeless thoughts. And you get to decide. It's not impossible to do. I know people say, "I can't stop thinking!" Well, instead of stopping, start. Get your Bible out, write it on a card, whatever it takes, put it on your iPhone, put it on your iPad, and keep the Word before your eyes.
As an author, what's your greatest hope for Why, God Why?
I want people to hope for their future. If they're asking the questions, there's some pain going on in their life. It's called what to do when life doesn't make sense. I want them to know that even if life is not making sense, there is a good plan.  You are headed for something great. God's done, for my kids and I, exceeding abundantly above all we could ask or think.  I want to hand this book to every hurting person who said, "Why, God, why?" And help them to realize: ask all those questions by all means, push them to the backburner, and here's what your future looks like. Go on, there's great things ahead of you. Today is not a life sentence. Keep going!
To purchase Why God Why?: What to Do When Life Doesn't Make Sense
Can We Pray For You?