Former President Ronald Reagan: 'I am Born Again and I am a Bible Believer'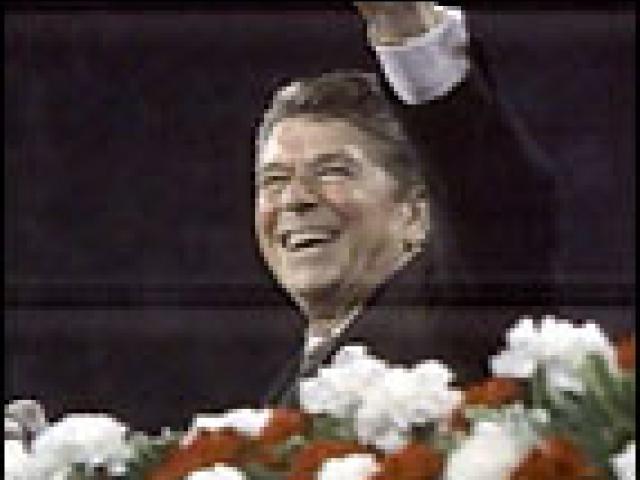 LOS ANGELES, CA (ANS) Former President Ronald Reagan died Saturday after a long battle with Alzheimer's disease. He was 93.
When he took office at age 69, Reagan had already lived a career outside Washington, one that included work as a radio sports announcer, an actor, a television performer, a spokesman for the General Electric Co., and a two-term governor of California.
He died at his home in California, according to a family friend, who initially disclosed the death on condition of anonymity. The friend said the family is making funeral arrangements, the Associated Press (AP) reported.
In Paris, White House spokeswoman Claire Buchan said President Bush was notified of Reagan's death in Paris at about 4:10 p.m., EDT, by White House chief of staff Andy Card.
Card learned of the death from Fred Ryan, Reagan's former California chief of staff, Buchan told the AP.
The White House was told his health had taken a turn for the worse in the last several days.
Five years after leaving office, the nation's 40th president told the world in November 1994 that he had been diagnosed with the early stages of Alzheimer's, an incurable illness that destroys brain cells. He said he had begun the journey that will lead me into the sunset of my life, the AP reported.
Reuters reported that at 6 p.m. EDT Saturday a wreath of red and white flowers was placed on Reagan's star on the Hollywood Walk of Fame, but only a couple of people were around to watch on a bright day that had attracted most people to the beach.
Reagan Articulates Clear Statement of Faith and Welcomes Evangelicals
Former National Religious Broadcasters (NRB) Executive Director Dr. Ben Armstrong met with Reagan on a number of occasions both as president and also when he was a candidate for the office.
In the summer of 1980 Armstrong had the opportunity to ask then presidential candidate Reagan what it would take for him to get into heaven. According to Armstrong, Reagan said, I think I would say what my grandmother taught me. He then repeated John 3:16 word for word perfectly. I told him he couldnt answer it better, Armstrong said. He (Reagan) said, I am born again and I am a Bible believer.
Assessing the conversation, Armstrong said that Reagan was really interested in Christianity and classified as a born again evangelical. While his words (about his faith) were not as articulate as Jimmy Carter, they seemed to be very real.
Armstrong also discussed with Reagan the issue of prayer in the classroom. Armstrong told Reagan that while there was no prayer in the classroom there was increased violence. I said, You may be the person to do something about this.
Armstrong said that Reagan promised to take action and placed that plan into the category of moving back to traditional American values. He incorporated the ideas we had on the evangelical message into what he had been talking about Americanism, Armstrong said.
According to Armstrong he also talked to Reagan about the dangers of communism that the philosophy was developing a whole generation of people who didnt believe in God.
It rang a bell with him, Armstrong said. He was not only sympathetic and said he wanted to do something about it, but three years later at a meeting of the National Association of Evangelicals, he referred to the evil empire.
Armstrong said that Reagan always attended the annual NRB meetings, and even when his handlers declined one year on his behalf without telling him, that still did not stop Reagan from attending.
Armstrong said, He really wanted to come. He said, I have found out they have canceled me, but can I still come?
In an early meeting with Reagan, Armstrong discussed with him the need for religious broadcasters and evangelicals to get easier access to the White House.
I said, We dont only need people to talk about their testimony, but we need someone in charge whom we can talk to, Armstrong said. We had real big issues in Christian broadcasting.
Reagan did not disappoint, appointing a liaison allowing evangelicals easier access to the White House. At that point, The whole thing took on a different character, Armstrong said.
Reagans legacy was huge, Armstrong said. He upgraded the traditional standards of home, Bible, prayer, and patriotism. He was the one who affected the average man in the street by his communication, Armstrong said.
According to the AP, Reagan's body was expected to be taken to his presidential library and museum in Simi Valley, Calif., and then flown to Washington to lie in state in the Capitol Rotunda. His funeral was expected to be at the National Cathedral, an event expected to draw world leaders. The body was to be returned to California for a sunset burial at his library.
Reagan's Later Years
Reagan lived longer than any U.S. president, spending his last decade in seclusion as a result of the Alzheimers disease that wracked his body.
With his death, Gerald Ford, Jimmy Carter, George H.W. Bush, and Bill Clinton are the surviving ex-presidents.
Although very protective of Reagan's privacy, the former first lady let people know his mental condition had deteriorated badly. Last month the AP reported she said, Ronnie's long journey has finally taken him to a distant place where I can no longer reach him.
Reuters reported that Reagan's daughter, Patti Davis, wrote an essay in December 2003 expressing concern that some people might think Reagan was still mobile and active, despite his illness, because his family had guarded his privacy so carefully.
But it would be a disservice to every family who has an Alzheimer's victim in their embrace to say any of that is true, and I don't believe my father would want us to lie, Reuters reported she wrote.
In the same month People magazine reported (according to Reuters) that Reagan spent his days either in bed or occasionally in a wheelchair at his home in the Bel Air section of Los Angeles.
Reagan, a film star turned politician, was U.S. president from 1981 to 1989. He was voted into office with a conservative revival that changed America's political and economic landscape for years, Reuters reported.
He became the first right-wing president in 50 years; the first in 30 years to serve two terms; and the first to spend a trillion dollars on peacetime defense and witness a doubling of the national debt.
He was plunged into crisis in November 1986 when it was learned that the United States had sold arms to Iran in 1985-86 and diverted proceeds to U.S.-backed Contra guerrillas in Nicaragua, Reuters reported.
Reagan said he was guilty of no more than poor judgment, Reuters reported. Congressional hearings in 1987 backed him on one central point: witnesses said he was never told about the Contra funds.
He left office two weeks before his 78th birthday, the oldest president the United States had ever had and more popular than any predecessor in history, Reuters reported.
Reagan survived a 1981 assassination attempt that put a bullet near his heart, a 1985 colon cancer operation, and 1987 prostate and skin-cancer surgery, Reuters reported.
Alzheimer's
When diagnosed with Alzheimer's in 1994, Reagan disclosed it in a My fellow Americans letter.
He wrote, When the Lord calls me home ... I will leave with the greatest love for this country of ours and eternal optimism for its future ... I know that for America there will always be a bright dawn ahead.