All-American Paleo Table: Classic Homestyle Cooking from a Grain-Free Perspective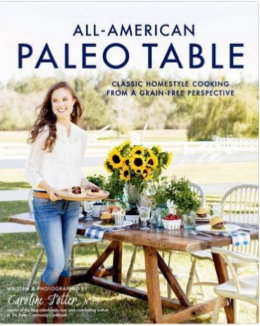 Celebrating the rich and diverse American food culture, Caroline Potter, food blogger and Nutritional Therapy Practitioner, presents an incredible collection of healthy and wholesome twists on classic American dishes to feed your family and friends throughout the year. Whether you're gathered with friends to cheer your favorite team on game day, bringing a dish to a summer barbecue, hosting Thanksgiving, throwing a Christmas party or simply cooking up something quick and flavorful on a busy weeknight, All-American Paleo Table has got you covered.
Bring some all-American flair to your table with over 100 grain-free, refined sugar-free and Paleo-friendly dishes like these:
- Fried Chicken
- Banana Chocolate Chip Griddle Cakes
- Chicken Pot Pie and Biscuits
- Cowboy Skillet Hash
- Maple Sugar Christmas Morning Cinnamon Rolls
- White Sausage Gravy with Biscuits
- Smoked Baby Back Ribs
- Slow-Cooked Pulled Pork Sandwiches
- Skillet Peach Cobbler
- Classic Pepperoni Pizza
- Cider Mill Donut Holes
Life is celebrated at the table - and if you are working through health issues or just trying to eat healthier, the memories of food and fellowship can often be missed! All-American Paleo Table proves just how tasty and delightful a healthy lifestyle can be. Each recipe is designed to spark your tastebuds and your memories, taking you back to your American roots. So gather around because these dishes are finger lickin' good!