Fragility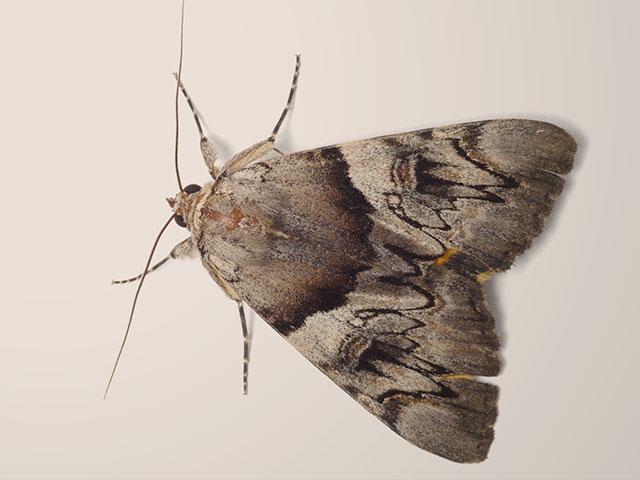 Large fluttering wings caught my peripheral eye, and I turned to get enough of a look to recognize the species as the same moth Tom had found on the wall outside of our apartment one year ago. I remember him knocking on the door as he headed off to work ... calling the children and myself (in our pajamas), to step outside for a moment and see this rare wonder.
It was almost as big as a Luna, tan colored, with a large eye-like pattern on each wing, and a long feathery antennae.
Just as it caught my eye in the night, I joined the snail's pace traffic detouring around an accident scene and saw the moth pulled up by a gust of wind, and then fall below the wheels of a truck to my left. So, on Friday night, June 8th, I was the sole witness of the delicate death of a Prometheus moth.
That image remained with me as we passed by an upturned truck with a crushed roof and hood, which had apparently shot past and twisted the guard rail, to turn 180 degrees and land in an accident. It didn't seem like anyone could have survived inside that cab, although I didn't get a sense that death had recently lingered there. Any emergency vehicles which might have carried away a body had long-since left the scene. Slow rescue workers trudged back to the police car and fire truck that remained, as a tow truck's bright lights illuminated the scene.
Ten days later, I was involved in a three-car accident with my children. We were the first in the line-up at an intersection, and the least affected by the impact caused by a distracted driver two vehicles behind our own. When I shared the news with my mother, she responded with praise. We weren't the second vehicle, where rear-window glass shattered all over their children, nor the third vehicle, where the airbags deployed and one of the passengers suffered lacerations. At the most, I have stiffness, soreness, and whiplash. My son was traumatized and stressed, possibly suffering bruising over his right shoulder. But, no one was taken away by ambulance. No one was severely injured, and no one died.
I cannot imagine not wearing my seat belt. Thankfully, all involved parties in this case, ten in all, were buckled in.
Hours earlier I had stood in my girlfriend's kitchen swapping stories with several friends--somehow we got onto the subject of teenage driving, and I mentioned that I had purposely waited to test for my driver's license until I was 18 as a result of having been in and having had friends in many accidents.
Two of those friends didn't survive. They were 16 and 17 years old. So, I know how terribly wrong something like this can go. Since we stopped at a green light to allow a police officer to cross in front of us, there was no oncoming traffic to have hit me from either side. Since the driver behind me also responded to the police car's sirens and my brake lights, he stopped with a car's length behind me.
If he had been closer, the third car's impact on us could have been much worse. It was daytime, and dry, so visibility was perfect--no other cars got involved from hydroplaning as they hit the brakes, to pile up more than three cars. The police officer, on her way to an emergency call, witnessed the entire accident and was quickly able to assign responsibility to Driver #3. My children's seat belts held them in place tightly, and my light-sleeping daughter miraculously continued her nap through the entire incident!
Life--it is often snuffed out as quickly as that Prometheus moth's. The dust from its wings disappearing easily into the wind. Sometimes, though, we are injured beyond recognition and still survive--perhaps like the driver in that crushed and twisted truck on 64 West. Then there are days like my Tuesday, when we just get an abrupt and unexpected jolt that says, "Hey! You're still alive! All is well. Thank the Lord!"
We did thank the Lord. We praised Him for His provision and protection. It's good to be alive.
"When you give it to them,
they gather it up;
when you open your hand,
they are satisfied with good things.
When you hide your face,
they are terrified;
when you take away their breath,
they die and return to the dust.
When you send your Spirit,
they are created,
and you renew the face of the earth.
May the glory of the LORD endure forever;
may the LORD rejoice in his works-
he who looks at the earth, and it trembles,
who touches the mountains, and they smoke.
I will sing to the LORD all my life;
I will sing praise to my God as long as I live.
May my meditation be pleasing to him,
as I rejoice in the LORD." (Psalm 104:28-34)
Copyright Lisandrea Wentland. Used by permission.