A Christmas Memory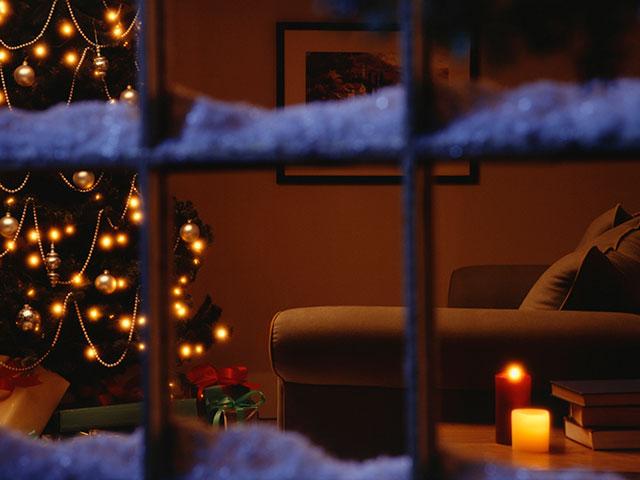 My Dad was born into a very large, close knit family, who were rich in love but poor as church mice.
His proud Father was a master-carpenter by trade, who could barely put food on the table. Christmas's around their house were usually very scant and barren to say the least. With barely enough money to put food on the table, any sights or sounds of the holiday regalia would have to be visited by another, more privileged family.
My mother was fully aware of this when she said "yes" to his marriage proposal in 1946. She herself came from a very wealthy background. Her own dad was one of the fast rising VP's at Baltimore Electric Company. And, as a child she grew up with quite an assortment of beautiful lamps and glistening chandeliers. She loved placing the tall candelabras in the many windows of her house, there in the upscale suburbs' of Catonsville, Maryland.
The two of them could have no more been alike, then peanut butter and jelly. Yet as fate would have it, they married and settled down in a tiny apartment on the eastern seaboard of Warwick, Virginia. There were three of us then, and as time passed, every year around Christmas time, our mom would tell us the story of she and my dad's first Christmas together.
Dad was working late at the grocery store as usual, and finally, after midnight he wearily made his way home. As he opened the door and stepped in, he couldn't believe his eyes.
There before him stood the most beautiful display of twinkling lights, trains, musical carousels, and presents galore! The crackling fireplace flickered as Bing Crosby's "White Christmas" softly crooned in the background. The house smelled of newly baked chocolate chip cookies and the scent of spruce evergreen from the freshly picked Christmas tree. She said he simply stood there, without saying a word in absolute child-like wonder. He had never known such magical illumination of Christmas beauty, at least not in a place he called home.
That year my mom gave my dad his first "real" Christmas.
There are five of us kids now and both of our parents have gone on to be with the Lord, but each one of us loves to keep that memory alive by re-telling the wonderful story that took place, back in 1946, one snowy Christmas Eve.
It has become our very special, "Christmas memory."  
Good Tidings, and wonderful memories to all this Holiday Season!
"Eye hath not seen, nor ear heard, neither have entered into the heart of man, the things which God hath prepared for them that love him" (1 Corinthians 2:9).
Can We Pray For You?