Fly, Run, Pray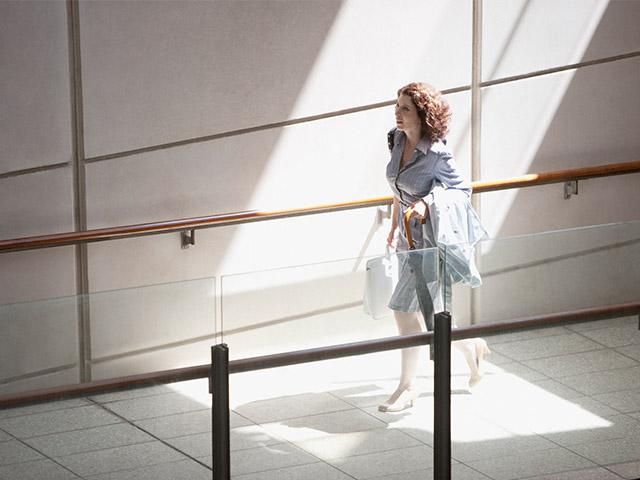 Related Topics
"Even though I walk through the valley of the shadow of death, I fear no evil, for You are with me; Your rod and Your staff, they comfort me." Psalm 23:4 (NASB)
I burst into tears at the airline counter. My 96-year-old grandmother was dying. Having to make the 30-plus-hour trip from New Zealand to my hometown, I wasn't sure I would make it before she passed away.
Crossing the Pacific, I pleaded with the Lord not to take her before I arrived, and to give her strength and peace.
"The Lord is my strength and my shield; my heart trusts in Him, and I am helped … And with my song I shall thank Him." Psalm 28:7 (NASB)
Because the LA control tower forgot the plane was on the tarmac, my four-hour layover evaporated to 45 minutes to gather my luggage, clear customs, transfer to the domestic terminal, and clear security. 
Fighting tears, I estimated the line would take at least an hour to clear customs. I prayed. Immediately, an agent stepped in front of me and opened another line. In five minutes, I cleared customs and was making my way to the shuttle.
An agent walked up to me, asking where I was going. When I told her how little time I had to make the flight, she said, "Turn to the right when you get outside the door — and run!" 
Because I knew my way around LAX, I thought she had misunderstood me, but I followed her directions. With sweat pouring down my back and forehead, I ran with my luggage and arrived huffing at the counter. The agent was so indignant that I was checking in less than 40 minutes before takeoff that she forgot to charge me for my luggage.
I took off running and praying. At a checkpoint, a woman in front of me said to the agent, "I'm a Star Alliance member."
As I looked at the shorter line for members, I thought I'm a member too! I asked if the agent wanted to see my card, but she said, "Get in the members-only line." I was through the line within minutes.
The gate was at the far end, so I ran — again. When I arrived, no one was in the waiting area except for an attendant. "Is the plane still here?" I said breathlessly.
"It leaves in two minutes."
I was the last person to board.
Arriving in my hometown just before midnight, my lifelong friend and her father took me to the hospital, where my grandmother was awake. I felt blessed to finally be with her and could not stop thanking God.
I held my grandmother's hand throughout the night; she slept for a few minutes and would wake and look at me. She affectionately tapped my cheek or nose.
During the day, I read Scripture to Grammy. Her roommate told me how much that had deeply touched her.
As I was brushing my grandmother's hair, she chuckled. She'd always had a "spastic" voice, but I could usually understand her. That day I couldn't, so I asked her to repeat what she'd said. One word came out clearly: Jesus.
Soon afterward, my grandmother passed peacefully from this life into the arms of Jesus. She was the last of eight siblings.
I flew into my husband's arms at the airport. Although my grandmother had passed away, a part of her will always reside in our hearts and memories. I was thankful for safe travels and that God had been beside me every step of the way through a difficult journey.
Copyright © 2019 Marlene S. Briggs, used with permission.
Can We Pray For You?