When Life Overwhelms: the Courage to Believe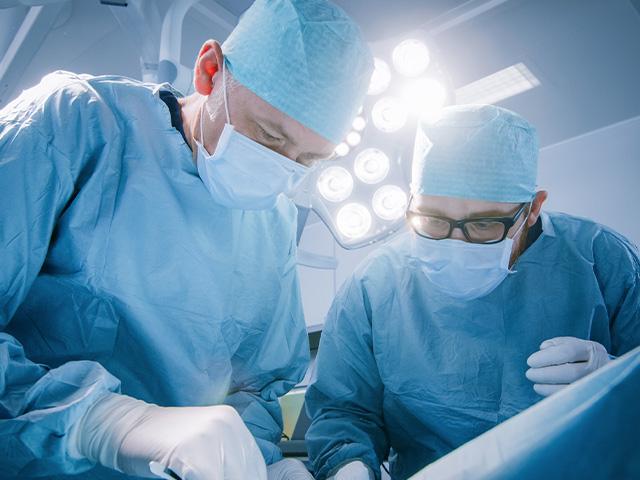 Related Topics
Bill's hernia surgery progressed without event. I pushed the intestines back into the abdomen and prepared to patch the hole in the muscle. With all the hernia contents now back in place, I noticed an abnormality, a defect my 40-year-old patient had lived with since birth. At his age, removing it was the best option.
I left the operating room and explained the situation to his wife, Elena. I paused and gave the family time to think. "If we don't remove it, he could have problems with it later."
Elena's voice trembled. "I can't believe it. This happened to my father last year. His body was filled with cancer. The surgeon came out in the middle of surgery — just like you. We decided to let him proceed. My father never got off the table."
The pain of Elena's past experiences clouded her ability to think through her current situation. After a time of silence, Elena prayed. "Lord, I'm afraid. I know you love us and always have the best in mind. I can do all things through You." After finishing, Elena looked at me. "Proceed with the operation. Do what you need to do."
I thanked Elena, left the lobby and walked back towards the operating room, still shocked by her quick, unannounced prayer.
I removed the problem, fixed the hernia and finished the surgery. Bill went home in a couple of hours, without complications.
Later, the pathologist called. "This gland you removed was a seminoma. Did you know he had a malignancy or were you lucky?"
What ifs, filled my mind. What if the family had decided not to remove it? The cancer could have spread through his body. What if Elena let past experiences influence her present judgment?
Reflect on God's Nature
Overwhelming challenges can be an opportunity to throw ourselves on God's faithfulness. When we focus on God's love, wisdom, and power, like Elena, we see a fresh view of our circumstances.
God's love pursues us. He sees our challenges as possibilities to enhance our understanding of Him. When bad things happen, we feel like God is doing things to us. We can't understand why a loving God would allow us to suffer and experience loss. But the reverse is true. God does things for us — not to us. In love, He works things out for our good, helping us grow in faith, character, and maturity. God's loving pursuit of us, led Him to the Cross. How can we doubt His motives when we suffer?
God is more than loving, He possesses all wisdom. Our Father knows best. He can see how our circumstances play out in the future. He understands what we need and how to work out every detail to bring the best outcome. When we face difficulties, we should remind ourselves that God knows everything. If we yield, He will work out each challenge for His purposes.
God's nature goes even further. He has all power — in heaven and earth. In every situation, God has the strength to deliver — or overcome and endure our trials. No matter what comes our way, He empowers us for His purposes and works to equip, enlighten and encourage us to fulfill them.
Elena modeled how to rely on God. We don't need to worry. Whatever happens, we can rest in one certainty. God has us covered. He relentlessly pursues us, knows what is best and has the power to fulfill His purposes.
"We have this hope, as an anchor for the soul, firm and secure." Hebrews 6:19 (NIV)
Copyright © 2019 Charles W Page, M.D., used with permission.
Can We Pray For You?