Captain America: Civil War: Movie Review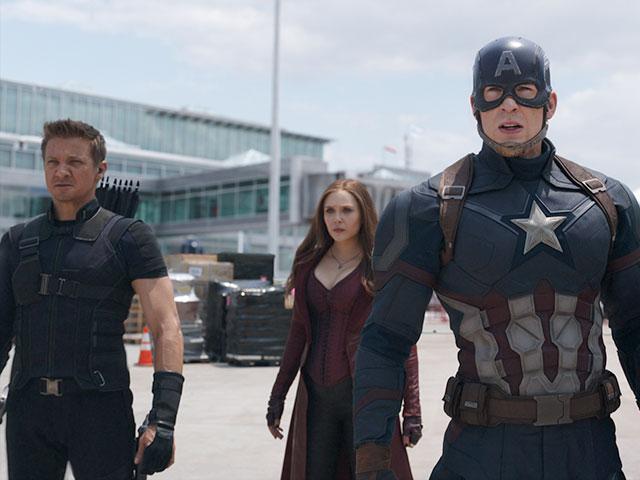 Star Rating

Movie Info
RATING:
PG-13 for extended sequences of violence, action and mayhem.
GENRES:
Action, Adventure, Sci-Fi
RELEASE:
May 6, 2016
STARRING:
Chris Evans, Robert Downey, Jr., Scarlett Johansson, Sebastian Stan, Anthony Mackie, Don Cheadle, Jeremy Renner, Chadwick Boseman, Paul Bettany, Elizabeth Olsen, Paul Rudd, Tom Holland, Emily VanCamp, Daniel Brühl
DIRECTORS:
Anthony Russo, Joe Russo
DISTRIBUTOR:
Walt Disney Pictures
Disclaimer
CBN is not endorsing the films or TV shows CBN.com reviews. Our goal is to provide information about the latest in entertainment, both the good and the bad, so you may make an informed decision as to what is appropriate for you and your families.
Superhero movie fans have seen DC Comics' Batman duke it out with Superman already this year. Now, it's Marvel's turn. It's Captain America v Iron Man!
Marvel Studios latest addition to their cinematic universe, Captain America: Civil War, boasts an Avenger-sized battle between Cap and Iron Man.
Chris Evans returns as Steve Rogers, America's beloved superhero with a heart of gold, with Robert Downey, Jr., donning Tony Stark's super suit for the seventh time on screen. The regular cast of characters joins them, including Scarlett Johansson as Black Widow, Jeremy Renner as Hawkeye, Anthony Mackie as Falcon, Don Cheadle as War Machine, Elizabeth Olsen as Scarlet Witch, Paul Rudd as Ant-Man, and Paul Bettany as Vision. A few new faces emerge, and though big cast superhero movies usually feel disjointed while introducing so many characters and storylines, Captain America: Civil War pulls it off.
Directing brothers Anthony and Joe Russo return to helm Cap's follow-up film to his 2014 release Captain America: Winter Soldier, a flick that explored the unfolding friendship between Steve and his childhood buddy, Bucky, who had since been brainwashed and turned into a menacing super soldier. Though it's long (clocking in at 146 minutes) and feels long during the first third of the film, Civil War provides moviegoers with a more vulnerable story with out-of-this-world characters that come across as more human than they've ever been.
Captain America: Civil War's plot picks up almost one year after Avengers: Age of Ultron. The main storyline follows a splintering of the Avengers (minus the Hulk and Thor), as the super-sized heroes are faced with agreeing to a law that will regulate how they operate. New governmental oversight, to help minimize collateral damage, when the people they're trying to protect are harmed, sounds like a good idea, but not all of the Avengers are on board. And you guessed it, one side's led by Rogers and the other by Stark. (Notable quotes include: "Compromise where you can. But, where you can't, don't!" / "Just because it's the path of least resistance doesn't mean it's the wrong path.")
Rated PG-13 for extended sequences of violence, action and mayhem, Captain America: Civil War has plenty of superhero action, but also contains some foul language. Parents should also know the movie has a torture scene that shows a hostage being hung upside in rising water. Though Captain America: Civil War is significantly less dark than Batman v Superman: Dawn of Justice, it does warrant caution for children, especially under the age of 13.
Captain America: Civil War has the Avengers working toward one goal -- protecting humanity from all evils. But, their approaches, Cap's and Iron Man's, clash -- in a big way. That conflict and the storylines of all involved make Captain America: Civil War an engaging superhero movie that examines the importance of law vs. liberty, the evolution of friendship, and the conversation about how to do what is right and good.
This latest almost-Avengers movie is more than just lycra and metal super suits, explosions, and cool fight scenes. It's deeper than you might expect and ticks a lot of boxes on what a superhero flick can be. For appropriate ages, it's one to see.
Can We Pray For You?