The Huntsman: Winter's War: Movie Review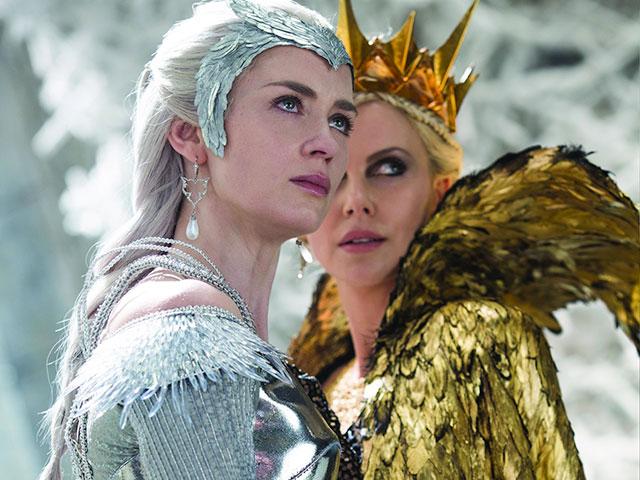 Star Rating



Movie Info
RATING:
PG-13 for fantasy action violence and some sensuality
GENRES:
Action, Adventure, Drama
RELEASE:
April 22, 2016
STARRING:
Chris Hemsworth, Jessica Chastain, Charlize Theron, Emily Blunt, Nick Frost, Rob Brydon, Sam Claflin, Sheridan Smith
DIRECTOR:
Cedric Nicolas-Troyan
DISTRIBUTOR:
Universal Pictures
Disclaimer
CBN is not endorsing the films or TV shows CBN.com reviews. Our goal is to provide information about the latest in entertainment, both the good and the bad, so you may make an informed decision as to what is appropriate for you and your families.
The Huntsman: Winter's War is a prequel to Snow White and the Huntsman. This time Ravenna's sister, Freya, is trying to freeze over the land, but the Huntsman, Eric, must try to stop her.
Winter's War has a strong moral worldview where good overcomes evil, but it also contains brief foul language, some intense violence and a lewd scene with brief nudity, so extreme caution is advised.
Ravenna is the evil queen who kills everyone that threatens her power. Her sister, Freya, has a tender heart, but when her lover kills her baby, she becomes evil as well. Believing love is destructive, her heart turns to ice, and she freezes the land. (For more of the storyline, go to movieguide.org.)
The Huntsman: Winter's War is a well-made movie, and entertaining throughout. Though this is the case, Snow White and the Huntsman is a better movie, with a clearer plotline and a positive, more overt Christian worldview. The storyline of this one takes longer to establish, seems more convoluted, and appears to have some plot holes.
However, the costumes are once again beautifully done. Also, the action scenes and suspense are exciting. Finally, the movie has many nice special effects.
The Huntsman: Winter's War has a strong moral worldview showing good overcoming evil. The characters make a commitment to marry and protect one another until death. Also, one character has a desire to be a mother and is distraught when her baby is killed.
That said, The Huntsman: Winter's War has a lot of intense violence, brief foul language and a bedroom scene with brief nudity. So, Movieguide advises extreme caution.
Can We Pray For You?