Go Tell It on the Mountain: Mark Collie's Musical Journey Behind Bars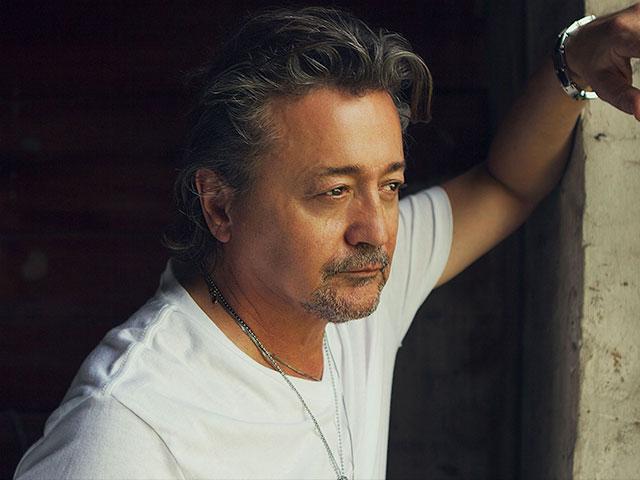 Fifteen years in the making, country singer/songwriter Mark Collie has released Alive at Brushy Mountain State Penitentiary, a 2001 recording of his concert at Tennessee's notorious Brushy Mountain state prison facility.  In addition, an accompanying documentary on the concert, The Mountain, makes its debut.
Best known for penning hit songs for Garth Brooks, Tim McGraw, and the late George Jones, Collie recorded the faith-infused Brushy Mountain in hopes of spreading the infectious vibe of hope and redemption.
I recently sat down with Mark to discuss why it took so long to release the record, the inevitable comparisons to Johnny Cash's legendary At Folsom Prison recording, and how people can find redemption through music. 
Mark, you initially recorded the Alive at Brushy Mountain State Penitentiary album in 2001.  Why such a long wait before releasing it?
Well, the project began with me wanting to take my guitar and spend time with some of the inmates at Brushy Mountain, and I had hoped to document my visits so that I might share it later. I wanted to shine some light into some dark places, and maybe bring a little hope with the music. So it sort of began that way in the late 1990s. It turned out to be more of a call or a longer journey than I had anticipated.  After I recorded it, the album sort of got caught up in the industry limbo—shelved, you might say, and so did the documentary called The Mountain that was part of it. But I felt like it was important and so I continued to try to recover the project. It's been a long journey with that, several years. My wife and I finally recovered the record and the footage that we had shot, and we learned then that the footage had been under water for two weeks during the Nashville flood.  Eventually we recovered it, restored it, and that became what we are releasing now.
What is the story about recording there in the first place?  What inspired you to perform inside a state prison, one of America's most notorious at that?
Had I known it was going to be a 15 year plus journey. I might have asked God for another idea. But I was blessed to know Johnny Cash and Merle Haggard personally, some of my most favorite people in the world, and they had great influence on my life not just professionally, but personally. I think one of the things that I always loved about John was his faith and his willingness to share that in song and in testimony. One of the things I learned getting to know him better was how important it was to go into the presence of the Lord and sing. A lot of people, they should know now, I think more people know but some of your readers may not know is that the first time John went to San Quentin, he didn't make a record, he just went there to share, and Merle Haggard was an inmate there.  Merle shared with me personally, of that time in his life and what a difference it made. It always occurred to me if John had never gone to San Quentin, we would have never had Merle Haggard and country music wouldn't have anybody to copy.  I didn't think I was going to find a Merle Haggard at Brushy Mountain, but I did think there might be one person up there whose life might get made better by a visit, and that's really where it began.
There will be obvious comparisons to Johnny Cash's legendary album At Folsom Prison recorded in 1968.  Did that recording serve as a catalyst to you to record Brushy Mountain?
I think any time you go into a prison as a singer or songwriter, a performance is going to draw up a comparison to John's work because he shined a lot of light on the needs of people who have fallen and made mistakes. I think that from my standpoint, many of the songs were written as inspired from conversations and testimonies that I heard from visiting with inmates, former inmates, ex-cons, and other people.  I decided I was going to write songs that could relate to them, might inspire them and might also shine a light of hope in them. A lot of the songs are really hardcore subject matter, and I wanted it to help that, because I wanted to be honest about it so that the songs in their honesty might show that there is hope, and there is redemption for anybody.
What is it about Johnny Cash's music that has inspired you and so many others along the way?
He brought a social consciousness to rock and roll.  Everything he did was socially relevant.  His music transcends time and trend. And I guess the honesty in John's work is probably why everybody can identify.
I understand you wrote a batch of songs focusing on crime and punishment for the Brushy Mountain recording.  What can you tell me about them?
"On the Day I Die" is a testimonial. It's as much as some of the demons that I've had to deal with as it is some of the stories and truths that I've learned just by listening to others. And it shares through all of the terrible things that the character in the song has confessed to. There's one hope, and that is the salvation of God.
I'm glad you said that.  Did any of these songs demonstrate a quality of hope, compassion, or forgiveness?
I think "On the Day I Die" carries that. But we do "Why Me Lord," and that song was important to be a part of the record.  "On the Day I Die" carries a great hope of redemption, and the fact that God will never quit on you.  "Why Me Lord" has been important to me my whole life. I think anybody who hears and has ever found themselves trapped in evil can relate. The song speaks that strongly. On the day we recorded, looking at the faces in that audience, in that vast prison yard, I felt that God was going to use that song for somebody that day.  And I believe He did.
I was hoping to make a connection, and to let the men in there know that they mattered to someone, and to give them just an hour of being free. The one thing about a song is you can't contain that in you. It's there so your spirit can be free.
Music matters to me, and I know that music has carried me through and helped bring me closer to God, and I knew it could do that for some other people too. But I also knew I couldn't go in there preaching to them.
Do you believe there is redemption in music?
I believe it can bring you to God.  Music carries us through to that. Jesus is the only way to actually find your redemption, but I believe that music can lead you there.  So yes, I do believe there is redemption in song. I mean, you can find God through a song, certainly. But it's like David's songs. Everybody likes to be sung to but not a lot of people like to be preached to.
From your perspective as an artist, what is the one thing that you want people to take away from the experience of listening to Alive at Brushy Mountain State Penitentiary?
I hope people will be entertained, and I hope they'll understand that I was trying to make a connection with people who needed to make a connection.  Jesus died for all of us, not just some of us. And this is a country music, country rock album, and it's hardcore subject matter. It's probably not going to be for everybody, but I think there's something on there for everybody.  Just skip the songs that you don't like.   There is also a documentary that I made about this experience called The Mountain.  I hope that will touch people as well.
To Purchase Alive at Brushy Mountain State Penitentiary
Can We Pray For You?