Mom's Night Out: Movie Review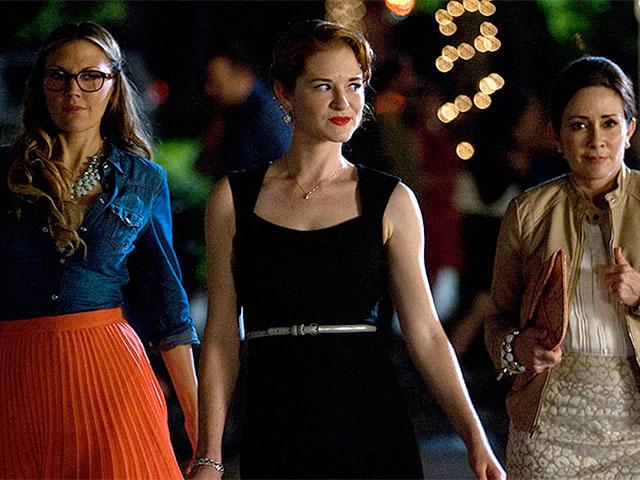 Star Rating

Movie Info
RATING:
PG (for for mild thematic elements and some action)
GENRE:
Comedy
MOVIE RELEASE:
May 9, 2014
STARRING:
Sarah Drew, Sean Astin, Patricia Heaton, Trace Adkins, David Hunt, Andrea Logan White, Harry Shum, Jr., Abbie Cobb, Robert Amaya, Kevin Downes, Alex Kendrick
DIRECTOR:
Jon Erwin, Andrew Erwin
DISTRIBUTOR:
Tri-Star Pictures
More on this movie at IMDb.com
Disclaimer
CBN is not endorsing the films or TV shows CBN.com reviews. Our goal is to provide information about the latest in entertainment, both the good and the bad, so you may make an informed decision as to what is appropriate for you and your families.
Early in the new movie Mom's Night Out (MNO), a very frazzled mother (Sarah Drew, Grey's Anatomy) of three uncontrollable children laments, "I'm living the dream and I'm still not happy."  Such is the case for many stay at home moms in the early 21st Century.  It might seem like the modern mother has it all: an adoring husband who has a good job that provides all their needs, a nice home in a respectable suburban neighborhood, and a group of supportive friends who genuinely appreciate her.  But yet, something is missing.
Finding that "missing something" serves as the basic premise of the heartwarming new family movie from the Erwin Brothers (October Baby).  Loaded with madcap hijinks and the positive message that moms do indeed count, MNO is the faith-based comedy we have all been waiting for.
From Son of God to God's Not Dead to Heaven is for Real, MNO stands tall in what is quickly becoming the "Year of the Christian Movie".
THE MOVIE IN A MINUTE
Having barely survived another one of her husband's (Sean Astin, Rudy) business trips, mommy blogger Allyson (Drew) wants nothing more than to go out for a night on the town with grown-up friends Sondra (Patricia Heaton, Everybody Loves Raymond) and Izzy (Andrea Logan White, Revelation Road).  She simply wants to experience a Saturday night that includes high heels rather than Happy Meals.  But to make the evening a reality, their husbands need to watch the children for three hours.  What could possibly go wrong? Everything!
Fine dining becomes a fine mess when, through a comedy of errors, all three of the ladies households disintegrate into a morass of errant pet parakeets, random medical emergencies, and most troubling, the loss of a baby.
A frantic chase ensues to find this lost bundle of joy as the moms and the dads separately encounter one hilarious mishap after another in their pursuit.  Eventually their worlds collide, aided with the help of a meddling British cab driver (David Hunt, Amazing Grace) and a tattooed motorcycle gang leader (country music star Trace Adkins) with a tender heart.
THE GOOD AND BAD IN MOM'S NIGHT OUT
Fresh from their winning turn directing the pro-life October Baby, Jon and Andrew Erwin have done a commendable job in making a faith-based movie that is naturally funny but not heavy-handed.  They have crafted a wholesome product that is safe for the whole family to see without regret.
Drew excels in her role, especially in the early scenes of the movie where she gets to demonstrate her comedic ability with skillful flair.  Whether it is worrying about her children contracting salmonella or retreating to a closet when the stress gets to be too much, Drew navigates these maternal waters with great appeal.
Fans of Christian cinema will be delighted to see Courageous veterans Alex Kendrick, Robert Amaya, and Kevin Downes in their roles as two of the dads and an immature, slacker friend respectively.  All three are welcome additions to MNO, especially Amaya, whose anxiety-laden character can't handle his children for more than five minutes without feeling the need to call the Centers for Disease Control (CDC).
MNO's one drawback is that after steadily building up a great deal of solid, comedic momentum in the first hour plus, the movie stalls and sometimes wobbles over the course of its final 30 minutes.  At points, the storyline becomes a bit fantastical and hard to believe.
Also, parents please be aware that the movie does include references to alcoholism and features some minor injuries.  In fact, a cast member even gets tasered in one scene.
Interestingly enough, Mom's Night Out has a CBN/Regent University connection as the screenplay was co-written by Andrea Gyertson Nasfell, daughter of former executive David Gyertson.
IN THE END
In a season filled with faith-based movies tackling topics from atheism to the authenticity of heaven, MNO stands out for its light, comedic approach to what we should all be thankful for – the highly influential role that mothers play in our lives.  This movie has a sweetness you don't see at the theater every day.
Can We Pray For You?