The Single's Guide to Hosting the Holidays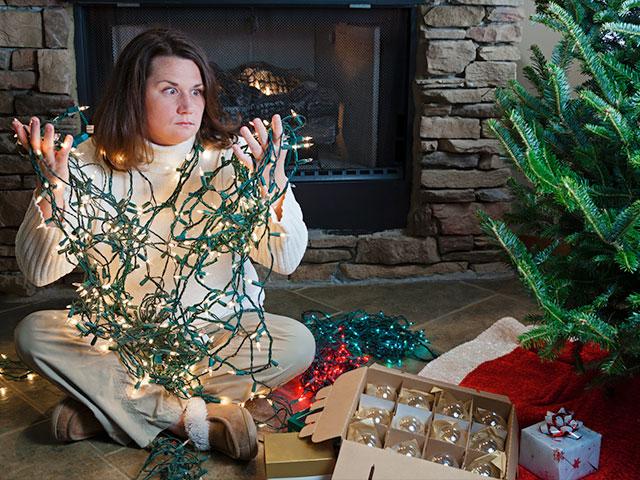 You've sat at the kiddy table long enough. If you're single and over the age of 18, you are more than capable of hosting a holiday party. And yes, you can even do it for your family. Here are some tips.
Answer "What, Who, Where, and When" First (In That Order)
A good party starts with a good game plan. Go through these questions to get your holiday feista on its way.
What? – You want to have a party but what kind? Sit-down or buffet? Your kitchen table easily determines this question. If you can fit all your guests around the table (excluding the kids), then go for a formal sit-down dinner. If not, then arrange a buffet line of food with plenty of plates and seating around your home.
Who? – Make up a guest list, even if it's a family event. It will help you keep track of how many people will be in attendance. If this is the kind of party where everyone is welcomed, then send out invitations. Ask people to RSVP and always allot for party crashers. Better to have too much food than not enough.
Where? – It will feel more personal if it's in your home, but you can always rent a dining hall or get a private room at your favorite restaurant. Whichever you decide, make sure that the party space is adequate for the number of guests.
When? – If your friends are like mine, they're always late. Remember that when setting your party time. Give guests some wiggle room. If you'd like to serve dinner at 7, ask guests to come at 6:30. Have appetizers ready for the early birds.
Draw Up a Menu
Think back to all the Thanksgiving and Christmas dinners you've had. Did you prefer the honey-glazed ham? Were you always trying to avoid the mashed potatoes? Write up a menu that you would like to pick from. Just remember to keep it balanced (ice cream is not a meal). Also take into account anyone invited with special dietary needs (i.e., vegetarians, diabetics, etc.).
Get a Real Table Setting!
This is the two-fold blessing of hosting a party: (1) You can get nice dishes and silverware that you can use everyday or just for special occasions; (2) it forces you out of your bachelor mentality of dining with plastic forks and knives. Plus, you can always borrow special dishes like ladles and punch bowls from friends.
Learn to Cook or Find Someone who Can
I've often told friends, "If you can read, you can cook. Just follow the recipe." However, if you don't feel confident making a five-course meal, it is best to enlist help. Find friends or family according to how much you want to be involved. Just want a little help in the kitchen? Assign one or two people to certain dishes and request that they bring their own pots and pans. Just want nothing to do with it? Go potluck (see below).
The Power of Delegation
I know you think you're a super hero, but hosting a party doesn't mean you have to do everything by yourself. Have a potluck dinner where everyone brings a dish. Before the event, nail down a close friend or two who is willing to help with the set up and/or clean up (that person can always be bribed with a latte later).
Set the Mood
You don't have to be Martha Stewart. Just a few small touches can create an ambiance:
Play jazz softly in the background. It should be loud enough for someone to recognize the tune if they know the song but soft enough to carry on a conversation.
If you decorate only two places in your home, make it the table and the front door. The table should have a beautiful yet unobtrusive centerpiece (and if you really want to get gutsy, go for cloth napkins, napkin rings, and matching place mats). A wreath on the front door helps people locate your home and gets them in the holiday spirit before the party even starts.
Be a Good Host by Being a Good Guest
Greet everyone at the door. Mingle, especially if it's a party where people don't know each other. If people see you laughing and talking, they'll be more inclined to do the same. Also, introduce strangers and spark up conversation for them (For example, "Tim, this is Aimee. She's a lawyer. Aimee, did you know that Tim's wife graduated from law school?" Wait for small talk to ensue and politely excuse yourself).
Most importantly, relax! It's your party. You can cry if you want to, but it's much more fun if you don't.
Cheers!
Can We Pray For You?