Be Happy: Bible Verses on Thankfulness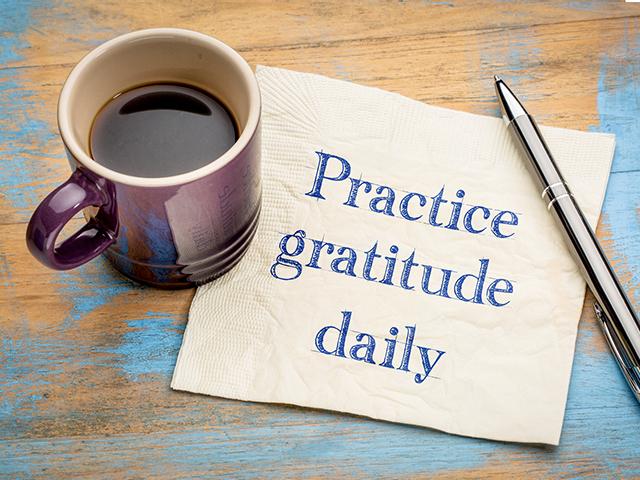 Related Topics
I have found this principle to be true: It is not happy people who are thankful—it is thankful people who are happy.
Maybe because I had lived far too much life before I got saved at the age of 21, or maybe because the more I received revelation from God's Word, the more it opened my heart, but either way… I am a grateful, thankful, person.
And therefore, I'm a very happy person too!
It seems the Holy Spirit inspired the writers of God's Word with the same understanding. The word eucharist is used in our modern language for Communion, but it is also a Greek word for THANKSGIVING that embodies the highest act of gratitude for the greatest gift received from God: the sacrifice of Jesus.
Bible Verses on Thanksgiving
The word thanksgiving literally describes the grateful acknowledgment of past mercies:
Psalm 26:7, "That I may proclaim with the voice of thanksgiving, and tell of all Your wondrous works." (NKJV)
When you've experienced the loving-kindness of God, it's hard to keep it quiet. In fact, reminders show up time and time again putting us in remembrance of how good God has been to us.
Psalm 69:30, "I will praise the name of God with a song, and will magnify Him with thanksgiving." (NKJV)
Even when life throws a few curve balls, and it's (at first) by choice to praise and honor God for His faithfulness, it doesn't take long before our act of faith turns our heart around. The Holy Spirit is so gracious to whisper, "If He did it once, He'll do it again."
Psalm 95:2, "Let us come before His presence with thanksgiving; Let us shout joyfully to Him with psalms." (NKJV)
Children are so care-free when it comes to singing and making joyful noises. It's a shame when adults lose that somewhere along the way. But oh, happy is the one who finds it again…! As one translation says, "Come, let's raise the roof for the Rock that saved us!" (MSG)
Psalm 100:4, "Enter into His gates with thanksgiving, and into His courts with praise. Be thankful to Him, and bless His name." (NKJV)
God created His people to know Him and praise Him. And the password to His presence is "thank you!" Those who know their God have found access to Him by their gratitude.
2 Corinthians 4:15, "For all things are for your sakes, that grace, having spread through the many, may cause thanksgiving to abound to the glory of God." (NKJV)
It's a benefit to the one who has discovered the joy of eternal life, to turn that joy into praise and thanksgiving. The result is more people receiving the gift of salvation through our praise because it draws attention to the One all are looking for.
2 Corinthians 9:11, "Thus you will be enriched in all things and in every way, so that you can be generous, and [your generosity as it is] administered by us will bring forth thanksgiving to God." (AMPC)
Every parent loves to see their children grateful for gifts at Christmas or birthdays. The same is true year-round. And our Heavenly Father is no different. As we imitate Him in generosity (with thanksgiving), others will joyfully express their thanks to God too.
Revelation 7:12, "Amen! Blessing and glory and wisdom, thanksgiving and honor and power and might, BE to our God forever and ever." (NKJV)
It will be the final hymn of all-time: to give praise and honor to God with unending thankfulness! Why not start practicing now? It's amazing what doors of grace are opened to thankful hearts.
Happiness seems to be a rare quality these days. But maybe it's because thankfulness is rare too. I have a friend I've known for almost 15 years, and there's never been a day that she hasn't replied: "I'm grateful" to my "How are you doing?" So it should be no surprise either that she is also one of the happiest people I know.
So be thankful today! Joy and happiness are sure to follow!
Copyright © 2014, Daphne Delay. Used by permission.
Can We Pray For You?