Let Love Lead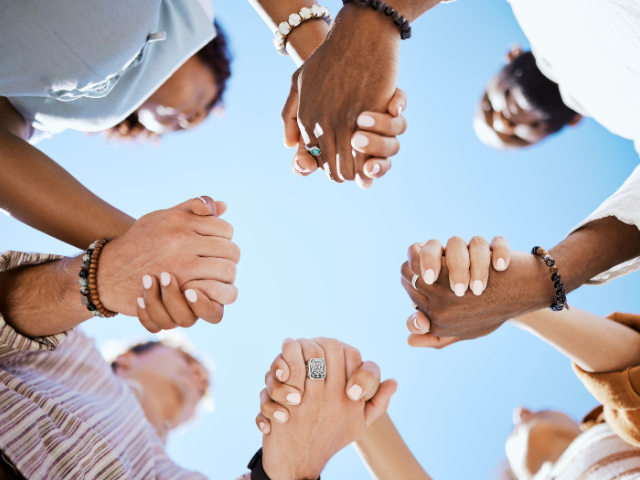 Related Topics
I love the book of Romans. I feel like it's a book that puts things plainly. In Romans 14, Paul talks about not causing others to stumble and not to judge. As I read this Scripture, I realize that Paul isn't talking about judging the unbeliever, but the believer. We get so caught up in lesser matters in life that it causes believers to have strife with one another, which is exactly what the enemy loves to see.
Romans 14:1-2 says, "Accept other believers who are weak in faith, and don't argue with them about what they think is right or wrong. For instance, one person believes it's all right to eat anything. But another believer with a sensitive conscience will eat only vegetables" (NLT).
The entire chapter talks about eating and drinking. Since the time that God gave Moses commandments for His people, there was food that was unclean to eat. After Christ's death and resurrection, the Apostle Peter received a vision from God three times that those foods were no longer unclean (Acts 10:9-16). However, some of the weak in faith choose to continue to not eat unclean things. Paul states that there is nothing wrong with this, but that we should be fully convinced that whatever you choose is acceptable (Romans 14:5).
We might not quarrel over opinions about food, but we do quarrel over a family's decision to send their kids to school, while another family chooses to homeschool. We quarrel over whether the wife should stay home or go to work. We quarrel over money. We quarrel over whether a church has flashy lights or no flashy lights. We quarrel over things that will not make a difference in the end.
Romans 14:6 goes on to say, "Those who worship the Lord on a special day do it to honor him. Those who eat any kind of food do so to honor the Lord, since they give thanks to God before eating. And those who refuse to eat certain foods also want to please the Lord and give thanks to God."
If the believer is fully convinced what he or she is doing is pleasing to the Lord, who are we to judge it? Who are we to tell them it is wrong? They are doing it to bring honor to the Lord. If they are truly following the Lord, the Lord will direct them. We can't make everyone's walk with the Lord look like our own. Our ultimate calling is to love. We are called to walk in love according to Ephesians 5:2. Let's pray together for the Lord to soften our hearts toward those around us.
Heavenly Father, we thank You for Your love for us. We thank You that You are pleased when we honor You with everything we do, Lord. We ask that You forgive us for judging those around us who do things differently than we do. We ask that You soften our hearts toward them and help us to see them through Your eyes. Give them wisdom and guidance in everything they do. Help us to walk in love with our brothers and sisters in Christ. In the name of Jesus, amen!
~
Scripture is quoted from the Holy Bible, New Living Translation, copyright © 1996, 2004, 2015 by Tyndale House Foundation. Used by permission of Tyndale House Publishers, Inc., Carol Stream, Illinois 60188. All rights reserved.
Can We Pray For You?