Bill and Kristi Gaultiere: Your Current Stage of Faith and Your Next Steps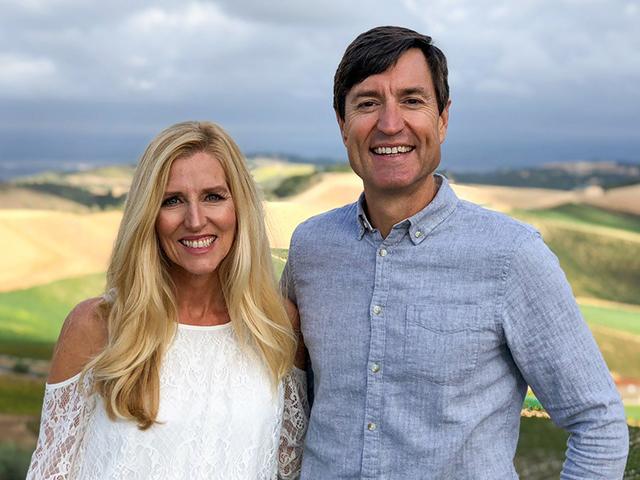 Related Topics
Since 1986, Bill and Krisit Gaultiere have invested their lives in their donor-supported ministry to pastors and leaders called Soul Shepherding. He's a Psychologist and she's a Marriage and Family Therapist. Together, through counseling, spiritual mentoring, seminars, and retreats, they help people connect deeply with Christ in ways that facilitate soul transformation. And now, they've authored Journey of the Soul to show readers how to identify their current stage of faith and the next steps to take based on their unique needs and struggles.  
Recently, I had the chance to ask them a few questions about their new book.
Who did you write this book for and what prompted you to write it?
In our Soul Shepherding ministry as counselors and teachers, we constantly talk to people who need guidance on how to grow emotionally and spiritually. Journey of the Soul answers this need. We offer support and insight for when you don't feel close to God, have trouble connecting at church, or don't know what to do to grow. We shine a light on the stages of faith in your journey with Jesus and guide your next steps to greater intimacy with God.
We wrote this book after a few experiences of spiritually hitting The Wall. For me (Bill) that happened first at age 21 when I was being badly persecuted by co-workers and then in my late 30s when I burned out as a pastor and counselor. For Kristi, it was at age 40 when she became overwhelmed by the suffering God allowed to those she cared for. She had compassion fatigue and was doubting God's love. But in each of these struggles, we eventually came into surprising new experiences of God's gracious presence and wisdom.
What's involved in identifying a person's current stage of faith and how does it help a person to know that?
For each stage in the journey with Jesus, we offer Path Finder questions and stories of people experiencing that stage of faith. We put a red star on the map of your soul to say, "You are here!" Once you identify your current home stage it gives you language for your feelings, challenges, and needs. To help you grow in God's grace in that stage we recommend key Scriptures, soul care practices, and soul talk questions for reflection or to share with a friend or small group. Then we give you a "Packing List" for the next stage and the new blessings it can bring.
Your book identifies six stages of faith. Can you give a brief description of them?
Our model for emotional and spiritual growth features six CHRIST stages of faith. It's based on over 70,000 hours of helping people, along with extensive research on psychological and spiritual development. These stages (or phases) are not linear, but cyclical. We all go back and forth in these stages and may be in more than one stage at a time. As you progress in the stages, it facilitates your abiding in Christ and fruitfulness in work or ministry. However, at any stage, you can love God and people well and that is the measure of your maturity, not your stage.
Here are the CHRIST stages:
Confidence in Christ (the C Stage)
Following Jesus Christ begins with receiving his forgiveness and new life.
Help in Discipleship (the H Stage)
We grow by being in community with other Christ-followers and practicing spiritual disciplines.
Responsibilities in Ministry (the R Stage)
We grow when we use our gifts to serve God and bless people.
Spiritual dryness or getting stuck are hidden opportunities for deeper growth and joy.
Inner Journey (the I Stage)
We experience spiritual renewal through empathy, emotional growth, and longing for God.
Spirit-Led Ministry (the S Stage)
Our greatest joy and impact is to act with the presence and power of the Spirit to serve others.
Transforming Union (the T Stage)
Our journey of the soul culminates with being united in the generous love of Jesus Christ.
What are Soul Care Practices and how are they used?
For each CHRIST stage, we identify particular ways of praying Scripture and caring for your soul that are likely to be most helpful. The big idea is that at different stages we have different challenges so there are different resources that we need in order to grow in our intimacy with God, emotional health, and capacity to love other people. For each stage of faith, we guide you in a soul care practice that you can do in a few minutes. This includes experiences like: delighting in the Lord, meditating on the Lord's Prayer, working with Christ, praying a Psalm with emotional honesty, enthralling your mind with Jesus, and centering on Christ within you.
Your book, Journey of the Soul, says it is a practical guide to emotional and spiritual growth. Many books have been written about spiritual growth. What is it about your book that adds the emotional growth factor?
Some teachers reduce Christian growth to believing and doing what's right. But it's not enough. There is so much more to a person. The Bible teaches that as people we are living souls that need to feel, relate with God and others, manage our desires and habits, and make good choices. Our emotional-relational being is just as important to our spiritual growth as our thinking.
For instance, many of us have not yet gotten through The Wall and have little or no experience in the second half of the CHRIST stages. We get scared by the questions, emotions, and discombobulation that come at The Wall. But the spiritual disciplines and activities that used to bring us a felt sense of God's presence are now leaving us dry and empty or like God is distant. We try to go back to the blessings and predictability of the way things were before in our relationship with God, but it doesn't work.
What's happening? What can you do to get through The Wall? You can discover that the Holy Spirit is inviting you into the Inner Journey. If you'll learn how to speak and pray in the language of emotions, cultivate desire for God, and practice quietly abiding in God's word, then in time you'll experience new intimacy with Jesus and fresh wind in your sails for serving God and helping people.
What is a Journey Map and how does it help a person?
In the last chapter of Journey of the Soul, we teach you a fun exercise of making a personal Journey Map with a large piece of paper and colored sticky notes. This map is a timeline that marks your faith journey through the periods of your life and identifies when you experienced particular CHRIST stages and what lessons you learned. To see the overview of your life journey with Jesus is so validating and encouraging! It helps you celebrate how God has been with you all your life, loving you and guiding you, even in dark seasons when that didn't seem to be true. Then you can share your Journey Map with a friend or a small group which fosters deeper relationships and rich learning.
After reading your book, what do you want the reader to take away with them?
We pray that Journey of the Soul helps you to know how deeply you are loved by God and for this to spill out in joyful love for God and others. We want to help you understand your journey with Jesus so you'll be better equipped to help others as a friend, teacher, or small group leader. When people in families, churches, and other communities understand and appreciate the CHRIST stages it helps them to empathize with one another, build unity, and effectively guide other people in their journey with Jesus.
On journeyofthesoul.org you'll find free resources for individuals and church groups like short videos, sermon/message notes, and playlists of worship songs for each stage. Also, you can order the Leader Guide and Soul Talk Cards.
Can We Pray For You?