Despicable Me 3: Movie Review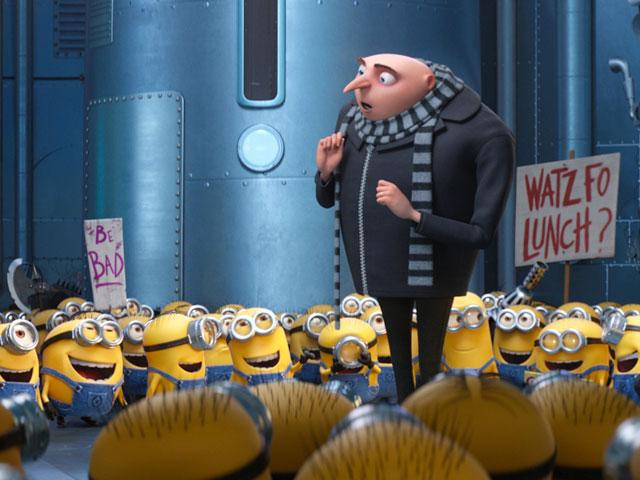 Star Rating


Movie Info
RATING:
PG for action and rude humor
GENRES:
Animation, Action, Adventure
RELEASE:
June 30, 2017
STARRING:
The voices of Steve Carrell, Kristen Wiig, Trey Parker, Miranda Cosgrove, Nev Scharrel, Pierre Coffin, Steve Coogan, Julie Andrews, Jenny Slate
DIRECTORS:
Eric Guillon, Kyle Balda, Pierre Coffin
DISTRIBUTOR:
Universal Pictures
Disclaimer
CBN is not endorsing the films or TV shows CBN.com reviews. Our goal is to provide information about the latest in entertainment, both the good and the bad, so you may make an informed decision as to what is appropriate for you and your families.
The crux of the Despicable Me movies is silliness. It's part of their DNA. For fans, they'll eat all of it up in the franchise's third installment, which hits theaters this weekend. For the rest of us, Despicable Me 3 may be forgettable.
Unfortunately, some of the movie's ill-mannered comedy overshadows everything else. Despicable Me 3 isn't nearly as endearing as the original and it so could've been.
The story picks up with Gru (voiced by Steve Carrell) and Lucy (Kristen Wiig) hot on the trail of a new super-'80s villian named Balthazar Bratt. After being fired from the AVL (Anti-Villian League), Gru faces a big decision -- for him and the "gurls" -- when his secret, twin brother Dru (also Carrell) tries to convince him to return to a life of villiany.
The Illunimination Entertainment picture has its clever moments, but cliché and suggestive humor crowd the 90-minute film. Some of the scenes don't move the story forward -- making the film, coupled with its not-always kid-appropriate humor, a somewhat disappointing experience.
A focus on family with Gru reconnecting with long-lost brother Dru, Lucy becoming "Mom" to the girls, and the Minions realizing how much they need and love Gru offer opportunities for a good story and takeaways. Still, its heart and soul couldn't fully impact because of anatomical humor and overuse of, at first funny, '80s references. Bratt was an on-point villian in the beginning, but eventually became more annoying than funny. (And why was his big song - Michael Jackson's "Bad" - the same as Dreamworks' 2010 animated villian, Megamind?)
Rated PG for action and rude humor, Despicable Me 3 isn't for all ages. Boob jokes and evil doll robots warrant a caution to parents.
The minions are cute. Gru is a great character. And in the end, family is celebrated. But, Despicable Me 3 just doesn't pack the emotional or comedic punch it could have. Maybe Despicable Me 4 will. (Much of this film felt like an introduction to new characters and story possibilites hinting to a future, fourth film.)
Can We Pray For You?