Forgive Again?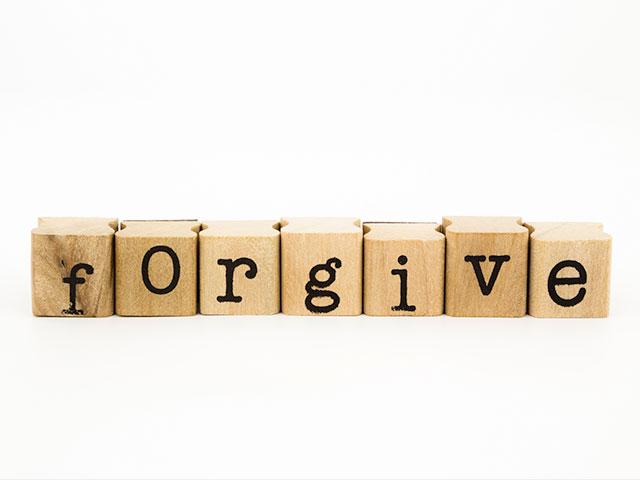 Related Topics
Then Peter came to him and asked, "Lord, how often should I forgive someone[a] who sins against me? Seven times?"
"No, not seven times," Jesus replied, "but seventy times seven!" (Matthew 18:21-22 NLT)
Peter has been traveling with 11 disciples and Jesus. So many personalities, habits and moods. Some flexible and spontaneous, as Peter, others rigid and reserved ... or resistant.
The people we must forgive are the people closest to us. A woman once stood in church and stated how she made it through 50 years of marriage, "Breathe forgiveness." 
Sounds a lot like seventy times seven.
Jesus knew the value of forgiveness… and our human failings.
"Love your enemies, do good to those who hate you, bless those who curse you, pray for those who mistreat you." (Luke 6:27-28 NIV)
A blessing for a curse? Forgiveness is an active decision. We all needed Jesus' mercy for our wrongs. We rely on His love to cover our mistakes. As He sacrificed for our forgiveness, we sacrifice pride and judgment to grant mercy to others.
Matthew 5:45-48 reveals how to behave like God's children, bring Him honor, and release others from guilt.
"Then your reward will be great, and you will be children of the Most High, because he is kind to the ungrateful and wicked. Be merciful, just as your Father is merciful."(Luke 6:35-36 NIV)
Yes, sometimes, spouses, siblings and children are like the enemies Jesus said to love. Their words pierce deeper because they are the closest to our heart. They are the ones we trust.
"My daughter is breaking my heart," a tearful nurse once stated. Her 14-year-old had left for school with the parting words, "I hate you."
It's hard to love and feel loved when actions and sentiments change from day to day, or week to week. Love and hate, blessings and curses. The wheel spins inside the brain and sometimes words fly off at alarming rates. There is an enemy of our soul who loves to surprise us with a hit when we least expect it. Like an ambush, we can feel that we are battling something unseen. And we are.
Enemies emerge from horrible bosses or backstabbing peers. I once prayed daily for co-workers to shake the bird's-nest of bitterness trying to camp in my mind. "You can't keep a bird from landing on your head, but you can keep him from building a nest."
Recently, a friend confided work was better. "I decided to forgive my boss, carte blanche. I just don't let it get to me anymore."
Forgiveness brings relief. We unload our expectations and pray to accept others, relieving us of disappointment.
Behind the scene, Satan, the unseen enemy, works to divide, raising walls and animosity. If we give way to hatred, we cannot love our enemies. We cannot walk worthy of our calling because it is dependent on others. We cannot help those we love, because we are not able to use the greatest power given to us by God—the power of love.
Love is stronger than hate. The Holy Spirit empowers us to forgive when we are attached to the Vine, Jesus Christ, who hung on a tree and died for our sins as He forgave those who nailed His hands to the cross.
Today He is alive and the power to love pours through His veins to us. Apart from Him we can do nothing. But with Him, we can choose to forgive—simply by asking Jesus—the One who knows how best to help us.
Copyright © 2016 Dee Aspin. Used by permission.
Can We Pray For You?