Not Just Any Hug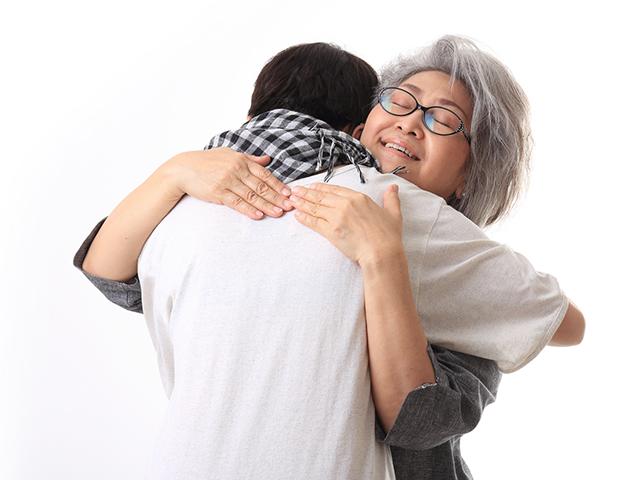 Related Topics
Nan sat in her recliner admiring her Christmas gift. Her grandchildren had bought her a new smartphone. She was intrigued and teased them she would call it her "light phone." 
"Nanna," Matt called.
Nan barely heard her grandson as she fiddled with the keypad.
"Naaaanna!"
"Yes?"
"I'm going home," Matt said, "so give me a hug."
Nan stretched an arm towards her grandson, balancing the smartphone on her knee.
"Uh-uh! I want a real hug. Come on, get up." Matt stretched his hands towards his grandmother and helped her rise. "I want to give you the kind of hug that says, 'I love and appreciate you.'" He wrapped his arms around her, enveloping her delicate frame.
Nan's mind flooded with memories. She thought about Matt as her infant grandson who loved to give snuggles. She remembered his hugs as a teenager that were more like a football player's tackle. As an adult, he still loved to give hugs. Not fake, 'see ya' hugs; his were sincere. Although his hugs were gentler now, the same emotion came through … that of love.
Love … Matt excelled at expressing it.
Nan thought about the family activities of the day: a gift exchange; Grandpa's favorite movie; a candlelit meal with Bible reading, "For unto you is born this day in the city of David a Saviour, which is Christ the Lord." (Luke 2:11 KJV); and finally, Matt's hug. 
What would she remember most? Nan knew her favorite memories would be the expressions of genuine affection such as her grandson's hug. She felt as though she could still feel Matt's strong arms wrapped around her. She stroked her arms, longing for his next hug …
Nan nestled back into her recliner and opened her Bible, setting the smartphone aside. She read about Simeon and Anna, whose intercession brought the Savior's birth to fruition. (See Luke 2:25-38) She felt she understood Mary's ponderings about the things she'd learned about her infant Son, for "she kept all these sayings in her heart." (Luke 2:51b KJV) 
"Lord Jesus, I too ponder the promptings You've placed in my heart about my family, and in particular, my grandson, Matt. I know You've been whispering into my spirit he will understand You more and more each day. Make him a warrior for You, filled with Your love and committed to knowing and obeying Your Word. Put a song in his heart and upon his lips an unshakable praise. Help him to glorify You in everything he does. Let every hug he gives be ordained of You." 
Nan felt a stirring in her heart to spend more time in intercession. Although age had limited her — even confined her to her home at times — she knew her job was not over. She would be as Simeon and Anna. She would be a fierce prayer warrior. She was committed more than ever to pray, and especially for her family.
"Heavenly Father," Nan said, "use my prayers as hugs. Whatever I can imagine that aligns with the principles of Your Word, You can activate through my prayers."
Nan prayed her family would ponder the gift that expressed the deepest love of all, which had been given by Father God:
"For God so loved the world … [Matt, Grandpa, Nan] … that He gave His only begotten Son, that whosoever believeth in him should not perish, but have everlasting life." John 3:16 (KJV, personalization mine)
Nan envisioned Jesus' outstretched arms reaching around her grandson, family, neighborhood, city, nation … and world. She knew Jesus had been born to die and rise again so every person could receive an everlasting hug.
Not Just Any Hug is based on real-life events. It is a tribute to my son, Matthew, who gives the best heartfelt hugs. Copyright © 2019, Diane Virginia, used with permission.
Can We Pray For You?