Grin and Grow with Kathy
11/11/20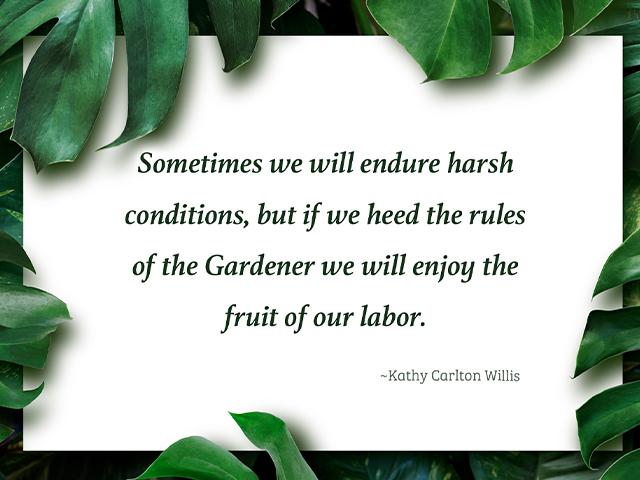 STORY: Plant It, and They Will Come?
Mom always wanted a Meijer lemon tree. Moving further south afforded her the opportunity to try to grow one. We left it in a pot rather than in the ground, to allow us to bring it indoors if necessary, to baby it during harsh weather. She was able to use frost cloth on the few nights when our temperatures dipped. Whenever we uncovered the tree, we noticed the cloth protected it from death, but not from all harm. Yet that tree persevered!
The first year of fruit surprised us. First, the fruit looked like limes for what seemed like forever before finally ripening to yellow and being ready to pick. Yes! The wait and the perseverance paid off!
Then we had to move and the tree came with us. As we loaded the tree into the van to take to our next destination, we found hundreds (maybe thousands) of visitors (not welcome guests!) trying to come along for the ride. Fire ants!
We treated the tree, then loaded it for the trip. And do you know what happened during the ride to our new location? Two fruit dropped off, ripe and ready.
Sometimes we will endure harsh conditions, but if we heed the rules of the Gardener and take gentle care of the resources he gives us, we will enjoy a positive outcome—the fruit of our labor.
STUDY: Rooted and Planted in Christ
They are like trees planted along the riverbank, bearing fruit each season. Their leaves never wither, and they prosper in all they do. (Psalm 1:3 NLT)
The "they" in this passage refers back to previous verses, describing people who delight and meditate in God's law and don't align with those who willfully sin.
Psalm 1 contrasts the just from the unjust. Why are God's followers compared to trees planted along the riverbank?
If bearing fruit each season is a result, what is the cause?
How healthy do these trees sound? What are withering leaves a symptom of in nature? What might it be symbolic of?
What does it mean to you, to "prosper in all they do"? Different belief systems define this in different ways.
Wickedness never brings stability, but the godly have deep roots. (Proverbs 12:3 NLT)
Why do you think wickedness never produces stability?
Stability comes from deep roots. How can we be godly, so we can grow deep roots? Or do the deep roots grow us to be godly?
To all who mourn in Israel, he will give a crown of beauty for ashes, a joyous blessing instead of mourning, festive praise instead of despair. In their righteousness, they will be like great oaks that the Lord has planted for his own glory. (Isaiah 61:3 NLT)
I realize this passage is for Israel, but we can see who God is from this verse.
Contrast what the mourner starts with to what they receive from God.
Since this is a word study on planting and rooting, what do you see planted here?
Let's determine to be used for God's glory.
So reach out and welcome one another to God's glory. Jesus did it; now you do it! Jesus, staying true to God's purposes, reached out in a special way to the Jewish insiders so that the old ancestral promises would come true for them. As a result, the non-Jewish outsiders have been able to experience mercy and to show appreciation to God. Just think of all the Scriptures that will come true in what we do! For instance: Then I'll join outsiders in a hymn-sing;

I'll sing to your name! And this one: Outsiders and insiders, rejoice together! And again: People of all nations, celebrate God! All colors and races, give hearty praise! And Isaiah's word: There's the root of our ancestor Jesse, breaking through the earth and growing tree tall, Tall enough for everyone everywhere to see and take hope! Oh! May the God of green hope fill you up with joy, fill you up with peace, so that your believing lives, filled with the life-giving energy of the Holy Spirit, will brim over with hope! (Romans 15:7-13 MSG)
As you read through this paraphrase, notice how many times the word fill or filled is used. What specific actions are mentioned with this word?
The letter to the Romans, written by Paul, shows how Jesus came from the root of Jesse, and how we are rooted in Jesus. Jewish people were the original plant (insiders). Gentiles (non-Jewish outsiders) who trust in Jesus for salvation are grafted in to the plant. Now we can all rejoice together.
I like how this paraphrase calls God, "the God of green hope." What do you think Eugene Peterson intended by coining that phrase?
Then Christ will make his home in your hearts as you trust in him. Your roots will grow down into God's love and keep you strong. (Ephesians 3:17 NLT)
This is a beautiful passage. What happens as we trust in Christ?
Have you ever prayed the prayer for Christ to make himself at home in your heart?
When Christ dwells in us as we trust him, what happens to our roots?
Sometimes we can see a cause and effect in Bible passages. Let's look at it in sequence. We trust in Christ. Then he dwells in us. That causes our roots to grow. This results in the roots getting deeply affixed into God's love. All of this results in God keeping us strong.
STEPS: A Time to Grow
Pay attention to your roots. Where you are rooted is where you will grow. And how deeply you are rooted determines how well you will grow.
Let your fruit ripen. Mature your faith into actions pleasing to the Savior. Be patient as you grow.
Copyright © 2020 Kathy Carlton Willis, used with permission.