Grin and Grow with Kathy
11/07/18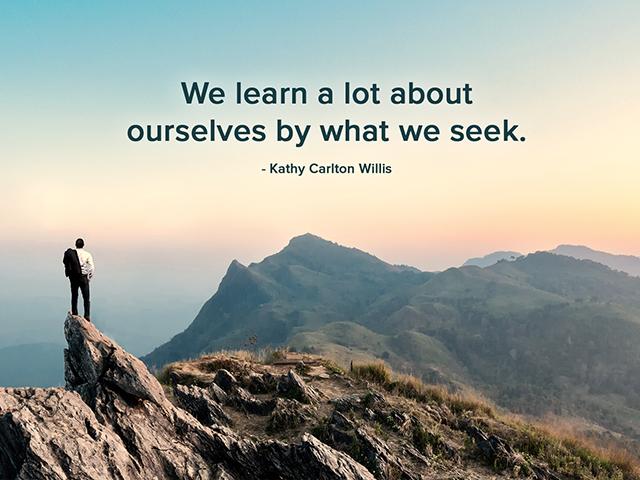 STORY: Hide and Seek
Our student ministry discovered several childhood games about a decade later than most kids played them. One such game was hide and seek. They updated the game by playing it in the dark church building. Oftentimes, the only way a hider could be found was when the game was over, and the lights came on.
I wonder if the same principle works for when I'm hiding something from God. When I seek Him and He shines the light on what I hid in the dark, I experience a rescue like no other.
STUDY: What Do We Seek?
"The Israelites went up seeking direction from the Lord. (In those days the Ark of the Covenant of God was in Bethel)." Judges 20:27 (NLT)
What is one thing, whether Old Testament or New Testament believer, we seek from the Lord?
Is there ever a time when we're not wishing for direction from the Lord? Probably not. Most of us, as we go through life, face issue after issue that requires God's leadership to help us. We feel lost — uncertain — even confused. For what are you seeking the Lord's direction right now?
I can't help but tune in to the word up. The Israelites literally went up. What can up signify for you as you seek God?
"The people of Bethel had sent Sharezer and Regemmelech, along with their attendants, to seek the Lord's favor." Zechariah 7:2 (NLT)
What are they seeking here?
What is the favor of God? One definition is "demonstrated delight." It is tangible evidence that we have God's approval.
How can we get God's favor? Isaiah 66:2b (NIV) says, "These are the ones I look on with favor: those who are humble and contrite in spirit, and who tremble at my word."
"Seek his will in all you do, and he will show you which path to take." Proverbs 3:6 (NLT)
What does God's will mean to you? Why is it important to seek it?
Can you give an example of a time when God showed you which path to take? Did you take that path, or trek your own trail? What was the end result?
How can you know if it's God's path and not just your own preference?
"Fools make fun of guilt, but the godly acknowledge it and seek reconciliation." Proverbs 14:9 (NLT)
What does guilt do to you?
When you experience true guilt (some would call this conviction or remorse), how do you handle it?
The opposite of acknowledging it would be to ignore it — to be in denial.
In this verse, the thing we seek is reconciliation. What does reconciliation require of the situation? How much of that is in your control? How do you handle what is not in your control?
"The bloodthirsty hate blameless people, but the upright seek to help them." Proverbs 29:10 (NLT)
Why do murderers hate honest people?
What can we do to encourage the one trying to live an upright life? We seek them out. We help them. We give them an attaboy or attagirl.
"The one thing I ask of the Lord — the thing I seek most — is to live in the house of the Lord all the days of my life, delighting in the Lord's perfections and meditating in his Temple." Psalm 27:4 (NLT)
We all seek many things. What is the one thing you seek most?
What did David seek most of all?
What do you think it meant to him to live in the house of the Lord forever? As post-resurrection Christ-followers, we become the temple, and the Lord indwells us.
David wanted to use his closeness to God to delight in His perfections and to meditate. The Message says he wanted to contemplate God's beauty and study at His feet. Have you tried biblical meditation? Start by focusing on how near God is to your heart, envision His beauty, and focus on His attributes. This is the beautiful amalgamation of worship and meditation.
"No, a true Jew is one whose heart is right with God. And true circumcision is not merely obeying the letter of the law; rather, it is a change of heart produced by the Spirit. And a person with a changed heart seeks praise from God, not from people." Romans 2:29 (NLT)
Whether Jew or Gentile, a true believer seeks to have a heart that is right with God. Some Bible versions call this circumcision of the heart. The Spirit transforms the Christ-follower's inner being.
What does a person with a changed heart seek?
Humanly we seek to be praised by others. How can we get past this desire of the flesh so that only God's praise matters?
"Learn to do good. Seek justice. Help the oppressed. Defend the cause of orphans. Fight for the rights of widows." Isaiah 1:17 (NLT)
This passage could be a superhero's mission statement.
Which of the good causes mentioned here matter most to you personally? How can you take more action in supporting this cause?
How can we seek justice in a world that often seems unfair?
"So people from all the towns of Judah came to Jerusalem to seek the Lord's help." 2 Chronicles 20:4 (NLT)
This devo-study is focused on the things we seek. What did God's people seek in this verse?
How do you go about seeking the Lord's help?
"Show me your unfailing love in wonderful ways. By your mighty power you rescue those who seek refuge from their enemies." Psalm 17:7 (NLT)
How wonderful, when we seek refuge from that thing that threatens to harm us, that we can receive God's unfailing love. What wonderful way have you experienced this lately?
God rescues us with His mighty power. What are you going through that needs an extra dose of God's power?
STEPS: Seek the Light
Look to God's map, the Bible, for direction.
Look to God's transformer, the Spirit, for a changed life.
Look to God's rescue, through His power, for safe refuge.
Copyright © 2018 Kathy Carlton Willis, used with permission.