How a 'Blue Couch Moment' Inspired Matthew West's New Album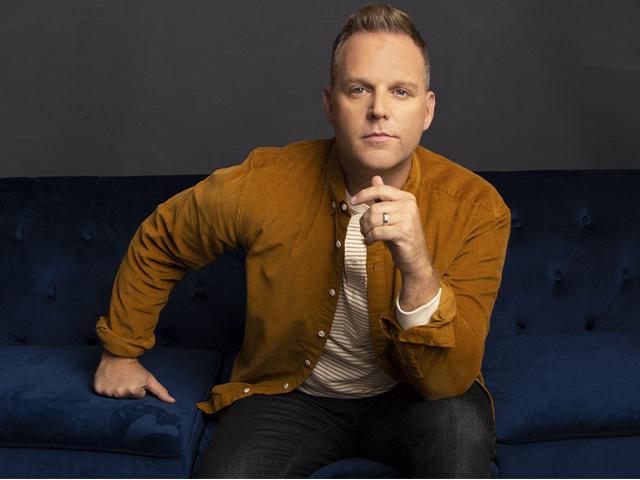 Multi-award winning (and 5-time K-LOVE Fan Awards host) Matthew West's latest offering to his discography marks a return to his roots as he shares his rediscovery of the exuberant faith that developed in his youth. With musical stylings from hymnodic melodies to jump-around tunes and power anthems, Matthew incorporates heartbreaking chords and honest lyrics with his effortless tenor range.
I spoke to him on the day his new album, Brand New, was released, and found that even a practiced artist with more than 130 songwriting credits anticipates this day with some trepidation. Matthew admits to being just a little nervous on the first day albums hit the shelves (or streaming services). "You always hope that people enjoy it as much as you hope they will."
In conjunction with the release of the album, West also wrote 10-day devotional titled The God Who Stays. He says of it "Each day focuses on scripture's powerful reminders that we have a friend who never leaves us and never gives up on us. I needed this reminder. Perhaps you do, too. Let's take this unique look at scripture together."
Assembling the Album
How do artists pick songs for an album? The theme of Brand New seems clear to me, but audiences are hearing the end result of a long creative process and some tough choices. Matthew said he started with close to 40 songs, selected 14, and points out that many artists don't usually have this many songs on an album.
"As a Christian artist, I want to break new ground musically and lyrically, but I'm still gonna tell the same story of hope in Jesus, you know? That's our job as creators and musicians and artists – to continue to break new ground, [and] go to new places…. The end of the day, I take the songs that felt the most honest to me, they felt like they were ringing true in my own life and spiritual journey. And if they were songs that I needed to hear, I gotta feel there's somebody else out there that needed to hear it too."
The soulful "Without You" features Leanna Crawford, a new artist under his management company Story House Collective.   Matthew is focused on mentoring new talent and encouraging the already established camaraderie amongst Christian artists.
"A big part of my career is championing other artists, writing songs for other artists and I think it's important for me to help develop the next generation of Christian music – artists who grow up wanting to sing about Jesus too – because I believe that's important. I want to use my platform and lend my platform to other artists as well.
"In Christian music we're all pulling for each other because – our songs are different, our platforms are different, but the message is the same – we're saying, 'Hey, God loves you, and hopefully these songs encourage you in your faith.'"
It might be this vision for the future which keeps Matthew's music evolving and laying groundwork for up-and-comers. His sound has grown and diversified since his career began as a songwriter for other artists. Matthew credits the experience for expanding his own self-described "eclectic" style, which pushes him to create new music that tells the same story in dynamic ways.
And he doesn't shy away from tackling tough topics in his lyrics. There is one particularly beautiful tribute (that was a little difficult for me to listen to) on this album, and is something he says he wishes he never had to write.  "Too Young Too Soon" is about his daughter's 6th grade classmate Sam, who took his life shortly after the school year began.
"I never thought I'd be sitting down with my sixth grader having to explain things like that to them. My heart broke for those parents and that family. He was such a sweet kid. In the song you'll hear me talking to Sam and talking about seeing him in the fifth grade Christmas play. I'm like the annoying dad and I see my daughter on stage. I keep waving and doing goofy things to try to get her attention, to sort of get her to break character. But she was being too cool for school. Instead, this boy Sam looked at me and he thought I was trying to get his attention, so he starts doing all the same things back to me, wave and smile. I just saw this kid, so full of light, and then a year later he's gone… Hopefully this is a song that raises awareness about suicide and helps us all to look around us every day and see who might need a little love from us."
Growing up in a Christian home gave Matthew a perspective on dealing with mourning and pain that informs his songwriting today. Memories of his dad trying to comfort an angry grieving neighbor showed him that though Christians don't have all the answers to the tough questions, faith provides hope.
"When we face the most broken, tragic moments of our lives our faith is going to fall short sometimes and we're going to have those moments where we're wondering where God is, which only opens the door for Him to reveal Himself all over again and show that his presence never leaves us. So I guess with my songs and that song included, it's like I want to be real with the pain and I want to be just as real with the hope that we have in Christ."
Sacred or Secular?
Sacred versus secular music. Christian versus Top 40. Sometimes the lines are blurred, and sometimes artists in each category skirt the edges of Christian music by calling themselves "spiritual." Some artists might choose to separate their Christian faith from their vocation altogether. In the lyrics of "Love on the Radio," West responds to those critics who question his choice to remain under the label of "Christian" music.
Does every song have to be about Jesus? Why yes – yes, it does. 'Cause I can only sing about what I believe in and I believe in His life-changing love.
"I think of that song as my mission statement. Hey, I write about what I believe. I write about what I'm passionate about and the driving force in my life is my faith in Christ. And when it comes to the songs that I write I want the world to know about the God who has changed my life. So that's why I put love on the radio."
West has a gift of singing honesty with a forceful tact that can translate often muddled emotion into words. "Truth Be Told" is (IMHO) the perfect prayer for someone who is stumbling through each day, dreading each sunrise, but feels shame for speaking it aloud and asking for help.
And when it's out of control I say it's under control but it's not, and you know it. I don't know why it's so hard to admit it, when being honest is the only way to fix it.
Matthew's own insecurities take center stage in this song, which he says stem from the pressures of growing up in church as a preacher's kid and living under a microscope. He says he was able to develop the dangerous skill of being able to "look the part."
"The Bible warns us about being overly concerned about the outward appearance. But meanwhile your heart could be in critical condition. Is your relationship with the Lord really what you're projecting it to be to the world? Or are there some things going on in your life, but you just don't feel like there's a safe place to reach out to get the help you need? 'They're gonna judge me if they know that I'm struggling in this area of sin or people are gonna ostracize me if they know that I'm really battling with depression or they're gonna tell me to get over it if they find out that I'm really still grief stricken over the loss of a loved one or whatever it may be. I don't feel like many people feel like they have a safe place to bring that. And the irony is that this song was just written from the perspective of 'isn't it ironic that there's a God who sees every single part of my life, the good, the bad, and the ugly, and He promises still that He's never going to leave me and He's never going to forsake me? Yet, to the rest of the world I still don't feel like I can be myself.' You wind up living a life that's something less than free.
"This was a song that I needed to write for myself just to go, 'I don't want to be that professional Christian anymore.' I want to continue to strive to be the most authentic and authentically flawed version of myself because at the end of the day, that's what's going to reach a lost and hurting world – not perfect Christians or pretending to be perfect Christians, but people who have found such a hope and freedom in Christ that they're willing to show a lost and hurting world that they too have some messes, but they're daring to believe that there's a grace that loves them and saves them anyways."
Bradley Cooper and Chris Pratt even earn a mention on the album. "Truth Be Told" leads easily into "The Me You Made," which focuses on "seeds of insecurity sewn in middle school" when Matthew was made fun of because of his weight. He says the public spotlight only serves to further highlight those self-doubts, and people should not assume he is "super confident" because he's on stage.
Hey, I don't wanna spend my life wishing I was different. That would be a waste of time 'cause I know You love me just as I am and I know my God don't make mistakes, so I'm just gonna be the me You made.
It's a personal message he wants to communicate to not only his audience, but his daughters.  One night, he noticed one of them staring critically at the phone screen.
"There was something that she noticed about herself that she perceived as a flaw. If I accomplish anything as a dad, it would be these two things. One, I hope I raised my daughters to know that Jesus loves them and that having a relationship with Him is the most important thing. And number two, that who they are is exactly who God made them to be."
The Blue Couch Moment
The title track of Brand New is an uplifting call for listeners to remember their young faith and to assert the pure identity that belief in Christ affirms. The power of the song "Brand New," and really the entire album, is rooted in an evening a young Matthew spent sitting on a blue couch in his family's Chicago home. He was flipping channels looking for a baseball game.
"One day I stumbled across a Billy Graham Crusade. I remember sitting on that blue couch – I didn't sit down to have a life defining moment, but it became that. And my mom sat down with me and she could tell that the Lord was working in my heart and she asked me if I wanted to pray. The two of us sat together and I held my mom's hand, and with Billy Graham in the background, I asked Jesus Christ into my heart. And over the last couple of years we've done a tribute to Billy Graham at each one of my concerts, when we play a song called "All In," 'cause he spent his whole life going all in for Jesus. I found myself reliving that blue couch moment on stage when I would speak to the crowd. And I would encourage them – 'God wants to have a blue couch moment with you. If you don't have one already, what's that moment? Could this become that moment where you say 'yes' to Jesus and you remember the details of this moment?' Just like I remember the details of that blue couch.  That's why there's a blue couch on the cover of my record.
"It's a picture of me as a grownup now sitting on a blue couch and the symbolism is that these days I find myself longing to go back to that 13 year-old kid who, with tears in his eyes, who called on the name of Jesus – my faith was just brand new and alive and on fire."
When it just doesn't feel like the old you is gone; the shame keeps telling your heart that you should be further along. You can fix your eyes now on the truth you know, that you are held by the hands of a savior that won't let go.
Matthew West will head out on tour with Casting Crowns beginning March 5. Purchase Brand New here and take a look at the video for "Truth Be Told" below!
Can We Pray For You?