Hacksaw Ridge: Movie Review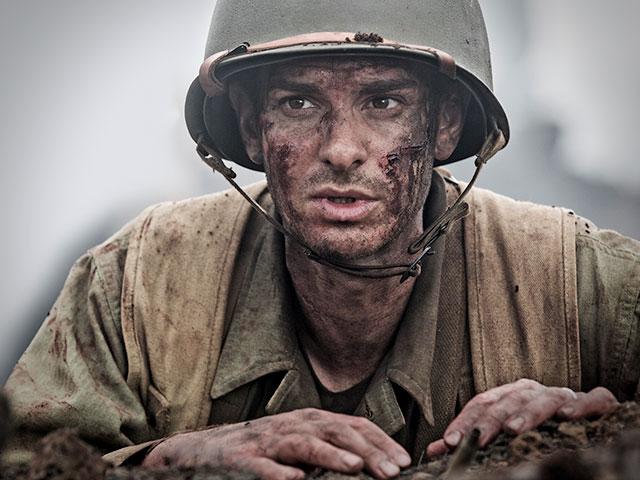 Star Rating

Movie Info
RATING:
R for intense prolonged realistically graphic sequences of war violence including grisly bloody images
GENRES:
Biography, Drama, Romance, War
RELEASE:
November 4, 2016
STARRING:
Andrew Garfield, Teresa Palmer, Sam Worthington, Vince Vaughn, Hugo Weaving, Milo Gibson, Luke Bracey, Rachel Griffiths, Nathaniel Buzolic, Matt Nable, Richard Roxburgh
DIRECTOR:
Mel Gibson
DISTRIBUTOR:
Lionsgate
Disclaimer
CBN is not endorsing the films or TV shows CBN.com reviews. Our goal is to provide information about the latest in entertainment, both the good and the bad, so you may make an informed decision as to what is appropriate for you and your families.
Mel Gibson's Hacksaw Ridge is a gruesome, soul-stirring film that gives moviegoers a shocking, yet touching glimpse into the life of a combat medic. It tells the incredible true story of Desmond T. Doss, the first conscientious objector awarded the Medal of Honor, who single-handedly saved the lives of dozens and dozens of dying soldiers in World War II.
The Rated-R film warrants extreme caution as it captures the sickening realities of war.
A son of rural Virginia, Doss (played by Andrew Garfield) first felt the effects of war at a young age, through the pain of his WWI vet father (Hugo Weaving). Despite protestations from his father, Doss joined up during the Second Great War. He loved his family, his church, and his girl, a nurse named Dorothy Schutte (Teresa Palmer), but he just couldn't stay home while other boys served.
A devout Seventh-day Adventist, Doss didn't truly consider himself a pacifist. His faith just wouldn't let him pick up a weapon. So he figured he'd be a medic and help save lives instead of taking them. His mission was never more crucial nor evident than the time he spent on Hacksaw Ridge – a battleground of intense fighting between American and Japanese soldiers outside of Okinawa, Japan.
This is Mel's return to the director's chair. It's been 10 years since Gibson last helmed a feature film (Apocalypto). And in true Gibson fashion, get ready for sensory overload. You'll be shocked. You might even have to turn your head away. But, you'll also laugh and cry.
Garfield, whose most recent blockbuster venture had him sporting a Spider-Man costume (The Amazing Spider-Man), embodies the unassuming demeanor of Doss, as well as, his quiet faith in Jesus Christ. Faith moments beautifully written throughout the film -- including references to and the quoting of scripture -- lead to a moving scene of Doss in silent prayer. Garfield's costars (also including Sam Worthington, Vince Vaughn, Luke Bracey, and Rachel Griffiths) support his performance well, making Hacksaw Ridge a quality film likely to get some attention come Oscar time.
Rated R for intense prolonged realistically graphic sequences of war violence including grisly bloody images, Hacksaw Ridge comes with a "caution is strongly advised" caveat. If you cannot stomach movies with intense war violence, wait for the edited televised version of the film. Gibson, not a stranger to making bloodly movies, purposefully filmed the goriness of war to depict the extreme, traumatic conditions soldiers face on the battlefield. War is a grisly business. Glossing over that fact does no service to the men and women who bravely serve. Still, you've been warned. Hacksaw Ridge's violence is unrelenting. Also note that there is some foul language and nudity.
Hacksaw Ridge tells the remarkable story of a war hero who never even picked up a weapon to fight. His heroics saved 75 men and generations of families are forever changed because of his bravery. Our country owes him a great debt. He's a true super hero worth immortalizing on film – not just for his honorable service, but also for his steadfast faith.
Can We Pray For You?