Jesus Culture's Kim Walker-Smith Echoes "Let Heaven Fall"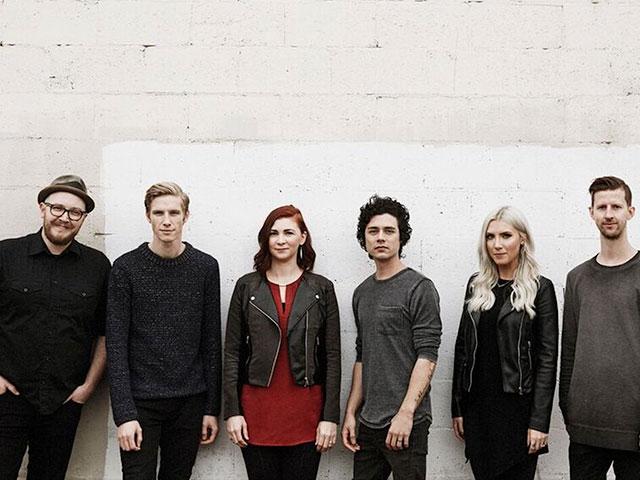 Related Topics
This past year has been a "tough season" for Kim Walker-Smith and the rest of the Jesus Culture Band. But, it's also been a time of "breakthrough...victory...and growth".
Out of this season of trials and Jesus encounters, the California-based worship band has birthed a new live worship album, Let It Echo.
Walker-Smith recently shared with CBN.com some of the stories behind the new record, including her take on new songs, "In the River" and "Alive in You", and how it was difficult to worship after her father's death.
What message does Jesus Culture want to 'echo' to the Church through this new live album?
Kim Walker-Smith: Our hope and prayer is that through this album, people would encounter the joy of the Lord, find strength in His presence, and be refreshed by the revelation of His goodness and kindness towards them.
How do you and the team decide what songs go on an album?
Walker-Smith: We collectively listen through all of the songs when they are finished and basically cast our votes as to what we feel should make the record. So far, we have always been in agreement! Usually one of two things happen. The Lord gives us a theme that we feel we are to move toward with the album and we choose songs that are in agreement with that or we see a theme unfolding as we listen to the songs and go with it.
Do you have a favorite on Let It Echo, one you can't shake?
Walker-Smith: It's hard to pick a favorite! The one that speaks to me the most right now is my song, "Alive in You". It best articulates the season of life I have been in. It has been a tough year and the Lord has taught me that even in the fire, He is there with me. I'm not alone and He will use the hard things to refine me and make me stronger and show His unwavering love towards me.
"In the River" is a powerful song. Can you speak to its origin and what it means to you?
Walker-Smith: Chris Quilala wrote this song with a couple other songwriters. They polled a group of pastors and asked them what kind of songs they wanted more of in their worship services. Unanimously, they all said songs about joy. That is why Chris wrote this song. I was thrilled when he asked me to sing it because I love singing songs about joy and I think we need a lot more of those. It's also an invitation to come and get strengthened through joy in the presence of God.
What does God's glory, Heaven falling, feel like to you?
Walker-Smith: It feels like a peace settling over me. Sometimes it feels like excited goosebumps in anticipation of what God is about to do.
Is there a miracle you're seeking that you can share or maybe one you've witnessed in the past?
Walker-Smith: Right now, the greatest desire I have and miracle I have been asking the Lord for is for a home. I know that might sound weird, but as a mother, I really want a place for my kids to feel settled and to have a big backyard to run around in and a place to gather and make memories. God has always provided for us above and beyond. I'm so thankful for all He has done for us. I know to Him this is a small thing, but in my heart, it is a huge request, one that I'm trusting Him with.
What would you say to those who are waiting and waiting and waiting for their miracle to come?
Walker-Smith: God's timing is perfect. We can't lose hope. We can trust in His goodness towards us. Sometimes He answers in a way we weren't expecting, but He does answer and He knows exactly what we need.
Is there ever any time when you honestly don't feel like worshipping? How do you push through?
Walker-Smith: There have been many times in this last year I didn't feel like worshipping. My dad died in May last year and in the grief, I did not feel like worshipping, singing, or even talking. But I knew that was actually the key to my breakthrough. I gathered all the strength I could and gave it all I had. The amazing thing about Jesus is that He doesn't expect perfection. Sometimes all I could offer was picking myself up off the floor, but that was enough for Him and He met me there. Sometimes I could only sing one phrase, but again, that was enough for Him and He met me there. As I continually gave all I could in those moments, the breakthrough started to come and I could feel the heaviness falling away. I found myself being able to sing more and worship more, and even smile more. None of it changed what had happened and I am still feeling the sting of sadness at my dad's absence, but I'm not being taken out by grief anymore.
What encourages you about how Jesus is affecting our culture?
Walker-Smith: I feel encouraged when I see so many young people running hard after Jesus at our church and events. It gives me hope for the future. They are so passionate and willing to give up everything for Him.
What has God been teaching you these days?
Walker-Smith: He has been teaching me to trust Him more. He has been opening my eyes to see that there are still places that I hold back or try to control. But He wants total surrender and He wants it all. He has also been showing me how well He takes care of me when I live fully surrendered to Him.
Can We Pray For You?