Abandon the Angry Dad Cycle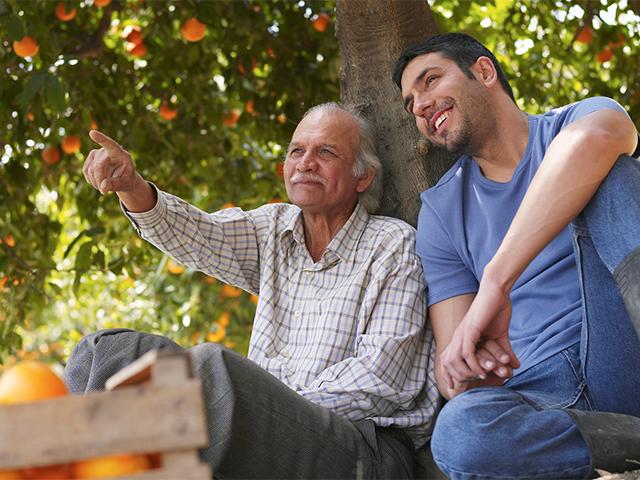 Related Topics
Anxiety was ever-present in my home growing up, but it always escalated each afternoon before my dad came home from work. This was the time when my mom, brother, and I made sure everything was perfect—and tried to become small targets to avoid his anger and punishment.
I remember one time we were out on the pool deck and my younger brother accidentally let a beach towel drop in a puddle of water. My dad exploded at him in a rage.
Under the imminent threat of the paddle, my brother did what both of us had learned to do to escape punishment—he lied and said I had dropped the towel.
I was punished instead, but such scenarios played out often in our family, and I'm sorry to say that my brother took my punishments as often as I took his.
THE LEGACY OF ANGER
Like many who grow up with angry fathers, I never wanted to be like my dad.
Unfortunately, this led me to avoid learning how to deal with my own anger. I developed a pattern of trying to stuff my anger or numb it with hard exercise, alcohol, and other distractions. Inevitably, the pressure would build until the anger burst out of me.
The deeper problem was that the beliefs that had formed in me through my dad's angry punishment fueled anger in my life.
If I made a mistake or had a lapse in judgment, I was conditioned to expect that disproportionate punishment and negative consequences would surely follow.
Thus, the moment I felt blamed for something, however minor, my fear of punishment would trigger and I would react in anger.
MEETING THE FATHER
Wm. Paul Young, author of The Shack, says, "It took me fifty years to wipe the face of my father off the face of God." I think this is a struggle for many of us, and it certainly has been for me.
For so long, I took as God's truth the lies my dad had drilled into me—that I was bad, the worst of the worst.
There was never any question that God was and always would be angry at me. Strangely, it was easy for me to hear about others' mistakes or failures and extend them God's grace, but I never believed that grace could be mine.
I embarked on a journey of inner healing and reconciliation with the Father that began to replace my old anger-driven relational culture with a culture of love, trust, safety, and forgiveness.
I discovered the truth that the Father had always believed the best in me and loved me as His child.
I also learned that fear, anger, and punishment were tools He would never use to lead me as His son.
And even though I am still in process, over the last twenty years I have gradually shortened the cycle from when I am afraid and tempted to turn to anger and the moment when I turn to Him and remember that I am loved, safe, backed, and believed in.
As I grew more secure in believing that I was "unpunishable," as my friend Danny Silk says, I was able to stop feeling and reacting to perceived blame and start creating a healthy connection in my personal and business relationships.
PERFECT LOVE
The fear of punishment is something we all have to deal with at some point on some level.
We all have wounding from our imperfect families and past relationships that have shaped our beliefs and produced anger and fear-driven dynamics in our relationships with ourselves, others, and God.
But the beautiful thing is that God is after our hearts. Our distorted lenses can't wipe out the truth of who He is or how He sees us.
When we encounter His perfect love for us, we discover that our fear is no match against the force and reality of that love.
"There is no fear in love. But perfect love drives out fear, because fear has to do with punishment. The one who fears is not made perfect in love." (1 John 4:18 NIV)
The person I am now and the relational culture I get to experience look nothing like the anxiety-filled home I grew up in.
I have learned and am continuing to learn how to practice vulnerability in the safety of close relationships, and as a result, I am surrounded by friends who have proven over and over to be trustworthy and bring incredible strength to my life.
Today, I encourage you to step toward the Father and ask Him to encounter you with His perfect love. May He set you free from the fear of punishment, heal you from the wounds of fear and anger, and empower you to build safe, loving connections with Him, yourself, and others.
Copyright © 2018, Bob Hasson. Used with permission.
Can We Pray For You?