Celebrating Obedience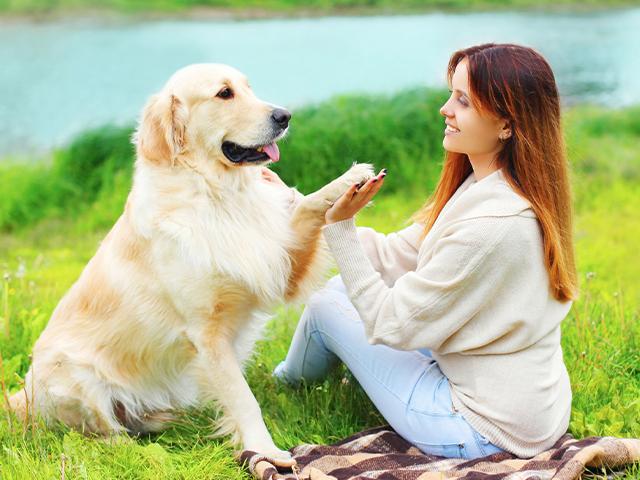 Related Topics
Welcoming a puppy into my home brought along a list of requirements to support the transition. Top of the list: obedience school. Golden retrievers start small and finish wearing a saddle. Proper planning ensures you aren't dragged along at the end of their leash. Chasing a pony isn't my idea of fun. Blissfully naïve, I enrolled Samson into obedience classes. 
For Samson, life was one continuous party with obedience school the epitome of socializing. Puppies lined up on command resembling a row of sphinxes until reaching mine. All fours airborne and tail wagging madly found me with varied shades of red cheeks. I've learned something about God; He uses every circumstance to teach. 
The Lord began to stir me about surrendered obedience and used my pup to teach me deep truths. I focused on the rewards of obedience rather than the chore of obeying. I studied the immediate effects of obedience from my dog's perspective. If I gave a command and he obeyed, there was instant gratification. Treats and attention left him prancing instead of walking. Samson lived to please me and jumped at the chance to obey without questioning or demanding a list of whys. When realizing God was teaching me through my dog's reversed role, these obedience lessons concluded. 
I quickly realized it wasn't a punishment to obey God, but rather lead to promotion. With my canine's maturation, everything changed. Laws required a public leash, but his love for me kept it slack. He didn't disobey pulling against it, but accepted it without understanding why. It was more important to him that peace remained between us and consented to its use. Mirroring this, there's much I don't understand about God and simply won't this side of Heaven. But what I do know is that if I simply obey and trust Him without everything answered, I can expect His blessings in my life.
"All these blessings will come upon you and overtake you if you obey the Lord your God." Deuteronomy 28:2 (NASB)
As elementary as this sounds, it's the cornerstone of obedience. It's unnecessary to choke myself pulling against His precepts when they're for my benefit. Obeying God isn't like obeying humans. There's no concealed agenda at which we bristle; He genuinely has our best interests at heart. Obedience actually precedes greater freedom and importantly demonstrates our trustworthiness to God. 
"Behold, to obey is better than sacrifice, and to heed than the fat of rams." 1 Samuel 15:22b (NASB)
God's laid the groundwork for incomprehensible blessings. While sacrificial offerings mattered—the release pin is obedience. This is our Shepherd's priority. It's critical to our happiness to trust Him fully; especially when it's hardest to understand what remains unanswered. Obeying Him becomes our living sacrifice and secures peace with genuine safety around His guarded perimeter.
My loving relationship with my dog caused us to move in concert together. He knew my utmost purpose was caring for him and keeping him safe from harm. Be it external circumstances or wrong choices, I positioned myself between him and danger. I was prepared to act swiftly to protect, but his obedience to my rules was for his benefit not mine. Likewise, God's there to intervene for us but the overflowing blessings arrive through our obedience. The more I trusted Samson to heed my voice, the more freedoms he enjoyed until proving my fenceless yard quired no leash. He enjoyed unlimited freedom because he earned my trust through his obedience. The ultimate celebration.
Coming full circle, I graduated into God's richest bounty when discovering His motivating love each time He calls my name.
Copyright © 2020 Susan M. Watkins, used with permission.
Can We Pray For You?