Not Afraid of the Dark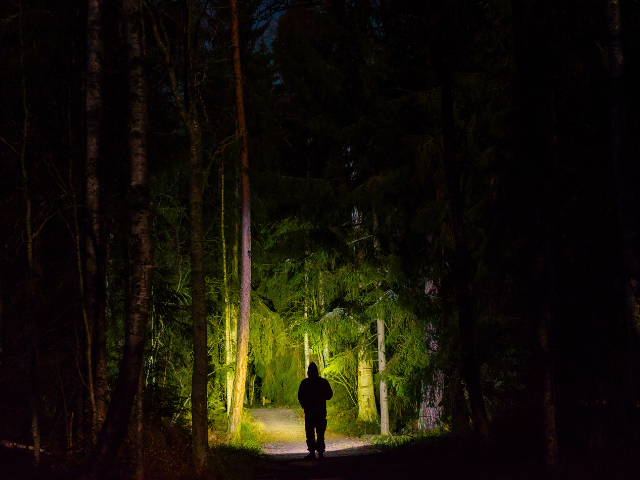 Related Topics
Many of us have raised children who were afraid of the dark. Everyday objects such as a pile of clothes on the floor tend to turn into a scary mound of lava in the mind of an adventurous toddler. We are a source of safety for our little ones who come to us in the still of the night, walking through dark rooms and hallways, to whisper, "I'm scared."
A part of my strategy to provide comfort to them is to use nightlights to dispel the darkness of the room. This light gives a sense of security and protection from the complete darkness that hides dangers—such as furniture that they could accidentally run into during a late-night trip to the restroom or a spooky lamp shade that looks like the head of an animal to the imagination of a child.
As adults, the dark may not be as scary as it was to us as children, but it may still present unknown dangers if we are not careful. I think of times that I have been in a power outage due to inclement weather and used a flashlight to illuminate a path to walk from room to room to avoid tripping or running into walls.
Since sin produces darkness, and sin is ever present in this world, we must be reliant on the light of Jesus. Jesus taught the crowd the value of His light by saying, "I am the light of the world. He who follows Me shall not walk in darkness, but have the light of life" (John 8:12 NKJV).
Jesus is the light that remains in front of us to illuminate our path, no matter how dark this world is. Jesus illuminates the world, and we who follow Him have His light to guide us—as His Word helps us know which way to walk in life. Psalm 119:105 says, "Your word is a lamp to my feet and a light to my path."
Without the light of the Word of God, we are sure to stumble through the darkness of this world. With His guidance, we will have a light for every step we take.
Prayer: God, we ask for the light of Jesus to be our guide in this dark world. When we are afraid of the dark, may His light comfort and protect us. May we find safety in the path that Jesus' light illuminates and follow that path all the days of our lives. In Jesus' name, amen.
~
Scripture is taken from the New King James Version®. Copyright © 1982 by Thomas Nelson, Inc. Used by permission. All rights reserved.
Can We Pray For You?