Grin and Grow with Kathy
08/09/17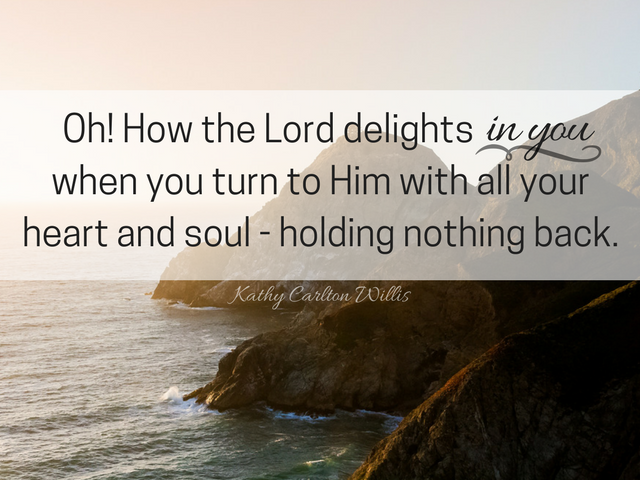 STORY: A Child of the King
I was a good girl as a child. I really was. That's what makes this story so much more surprising. Well ... normally I was an obedient child, but there were times my ideas got me into trouble. When I was little, I was restricted to drinking water in the kitchen because my folks said I was too young to be careful holding the glass. To prove to myself I was grown-up enough not to spill a drop from the glass, I decided I was going to drink in my bedroom despite the rule. Only one problem: I couldn't reach up to grab a glass from our kitchen cabinet. So, I crept up the stairs (also not allowed) to knock on the door of our upstairs renter. I asked her in my sweetest little girl voice (which I still have at age 54!) if I could please have a cup of water. She must have figured I was playing tea party or something because she graciously gave me what I asked for.
I remember after her door closed, I faced all those stairs going down to our home on the first floor. It seemed like a mountain, and I was no mountain goat! It was my first time to climb down them on my own, and since I was holding the glass I couldn't even cling to the stability of the stair rail. Every step I took was deliberate and cautious. With laser focus, I stared at the rim of the glass to make sure I didn't slosh the water. Slowly, and not so sure-footed, I walked down each step. I felt like such a grown-up, to be able to drink water in my bedroom. I don't remember the rest of the story—I guess I took the glass back up to our neighbor. But I do remember that after I came to my senses, I didn't like the feeling of being sneaky. I wanted to be a good girl. It wasn't fun to disobey Mommy and Daddy. I wanted them to be pleased with me. And I wanted to ask them for water, not a stranger.
It reminds me of a quote by Tim Keller, "The only person who dares wake up a king at 3:00 a.m. for a glass of water is a child. We have that kind of access."
It's great to have our parents be pleased with us, but to have the King of all kings delight in us—that's truly mind boggling!
STUDY: He Delights in You
The Lord your God will delight in you if you obey his voice and keep the commands and decrees written in this Book of Instruction, and if you turn to the Lord your God with all your heart and soul. (Deuteronomy 30:10 NLT)
What causes the Lord to delight in you?
Why do you think our all causes Him to delight?
He led me to a place of safety; he rescued me because he delights in me. (2 Samuel 22:20 and Psalm 18:19 NLT)
Because God delights in us, what two things does He do?
It's not a simple act of pity for God to rescue us, it is because of how much He finds delight in us. What does knowing that do to how you respond to His safe place?
But give great joy to those who came to my defense. Let them continually say, "Great is the Lord, who delights in blessing his servant with peace!" (Psalm 35:27 NLT)
The Lord is great. He delights in b___________ us.
What does the Lord bless his servants with?
It's not a bother for us to pray to Him and seek His help. He enjoys helping us. But be sure of this: don't just seek the blessing, seek The Blesser.
The Lord directs the steps of the godly. He delights in every detail of their lives. (Psalm 37:23 NLT)
The Lord takes great interest in directing the steps of who?
What does He delight in?
If you are seeking to follow His steps and pattern your life after Him, what detail of your life is of no interest to God?
No, the Lord's delight is in those who fear him, those who put their hope in his unfailing love. (Psalm 147:11 NLT)
Who does the Lord delight in?
What does it mean to fear Him?
Do you put your trust in His unfailing love? What does that look like in your feelings, your thoughts, and your actions?
For the Lord delights in his people; he crowns the humble with victory. (Psalm 149:4 NLT)
Who does the Lord delight in?
Are you part of "His people"?
How do you think God's delight in His people ties into the second part of this verse?
If you want victory, what does it start with?
STEPS: Being a Child God Delights In
We can gather from today's study that certain attitudes and actions please God. He doesn't love us because of our works, but because He loves us, we want to please Him and be more like Him. Let's apply the above verses to have the mind and actions of God. May our next steps be ordered by Him.
You will be a child God delights in when you:
Obey His voice.
Keep His commandments.
Turn to the Lord with all your heart and soul.
Have a servant heart.
Seek to be godly.
Fear God.
Hope in God's unfailing love.
Live humbly.
Copyright © 2017 Kathy Carlton Willis. Used by permission.