God's Light Fills Us With Power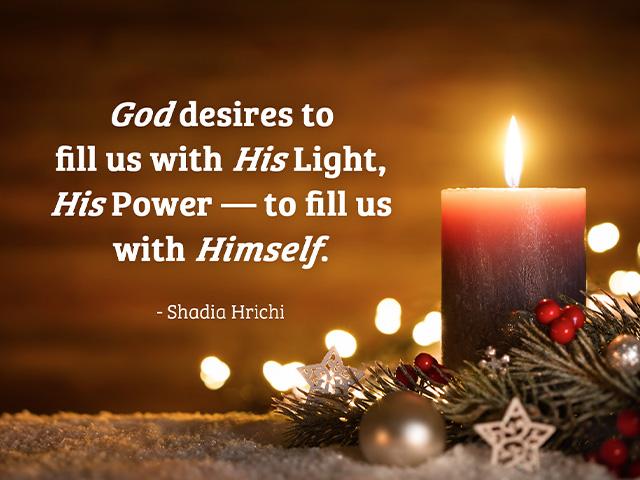 Related Topics
Christmas is my favorite time of year. It is especially fun when children are young.  Who can resist the joy of seeing little loved ones' faces light up as they discover the thrill of an exciting new toy?
However, in today's gadget-giddy world, when I shop, I am very careful to keep a second list: batteries! It seems everything needs batteries. You simply can't pick up a toy without seeing that tiny print in the corner, "batteries not included." I can just picture the pitiful scenario. I buy the perfect toy and wrap it beautifully. The child unwraps toy and squeals in delight. Moments later, we discover that the toy, attractive and filled with potential, simply cannot do what it was made to do. I didn't supply the batteries!
Full of Promise
When it comes to today's toys, batteries are the equivalent of life or death. A toy may look appealing. It may have all kinds of bells and whistles and be packed full of promise. Yet, without batteries, it can do none of the things it was designed to do.
We are like that toy. God created us for greatness and filled us with promise. However, without batteries – the true Light of God – we remain only an empty shell of all that we were intended to be. Ever since our ancestors rebelled against God in that garden paradise so long ago, every human being is born spiritually dead and without power. But praise God that He did not abandon us there. Through the gift of His Son, God made a way for us to reach out to Him. To reach towards His light and His love.
Embracing the Light
Jesus declared, 
"I am the light of the world. Whoever follows me will not walk in darkness, but will have the light of life." John 8:12 (ESV)
God desires to fill us with His Light, His Power—to fill us with Himself.
"But because of his great love for us, God, who is rich in mercy, made us alive with Christ even when we were dead in transgressions—For it is by grace you have been saved, through faith—and this is not from yourselves, it is the gift of God— not by works, so that no one can boast. For we are God's handiwork, created in Christ Jesus to do good works, which God prepared in advance for us to do." Ephesians 2:4-10, selected (NIV)
"The Spirit gives life; the flesh counts for nothing…[but]…I can do all things through Christ who strengthens me." John 6:63 (NIV); Philippians 4:13 (NKJV)
Father, thank You for the precious gift of Your Son. Thank you for giving us life through Christ even when we were dead in our sins. Help us, Lord, to walk in a manner worthy of You. Fill us with Your light and Your Holy Spirit power as You send us into the world to tell of Your great love – not only during Christmas, but all the year through. Amen.
Copyright © December 2019 Shadia Hrichi, used with permission.
Can We Pray For You?